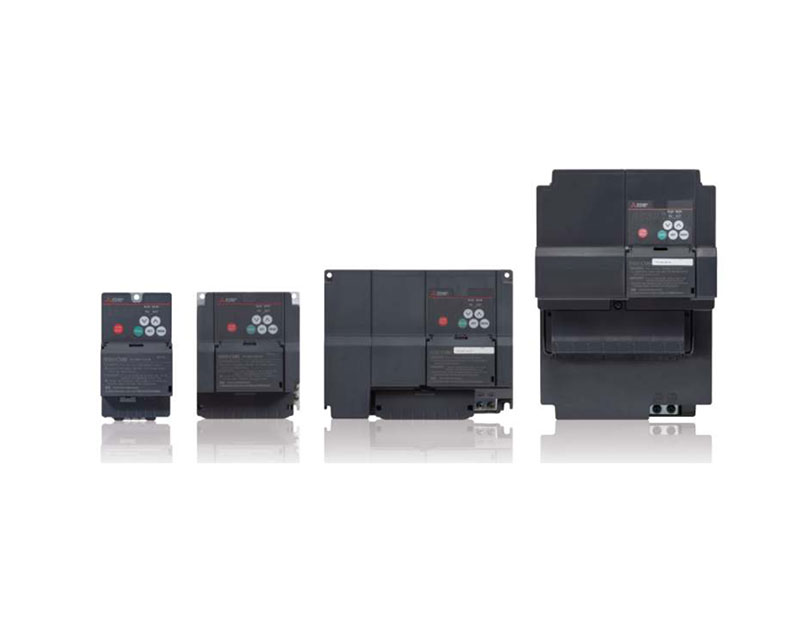 FR-CS80 the most compact inverter from Mitsubihsi Electric!
Mitsubishi Electric presents the new ultra-compact FR-CS80 series, which is very easy to install, with high performance, ultra-compact design and extremely competitive.

Mitsubishi's new FR-CS80 drive has now emerged to complement the existing range of inverters. This inverter comes to compete in a more competitive way in the range of compact inverters, offering an excellent performance in a very compact body.

Its compact format makes it possible to reduce the installation space, for example by installing 3 devices side by side, in the same space as 2 units of the same power from other ranges.
This inverter covers a wide range of powers, from 0.4kW to 15kW, for two possible types of power supply, single-phase 230V and three-phase 400V.
Features
FR-CS82
FR-CS84
Motor capacity
0.4 kW – 2.2 kW
0.4kW – 15kW
Rated Current
2.5 (2.1)* – 10 (8.5)*A
1.2 (1)* – 29.5 (25.1)*A
Power supply
Monofásico 200 – 240 V
Trifásico 380 – 480 V
Overload current
150% 60 s, 200% 0.5 s
Frequency
50 Hz
Protective Structure (IEC60529)
IP20
I/O
Entradas analógicas: 2ch ~(5/10V,4-20mA)
Entradas digitais: 5ch
Saída a relé: 1ch (1C)


Comunication
Comunicação: 1ch (RS-485)
Advantages
Intelligent functions for every application;
High torque;
Plug & Play connection to GOT 2000;
Ultra-compact;
With display for configuration;
Sensorless vector control;
Side by side mounting.
Industries
F.Fonseca is the representative of Mitsubishi Electric in Portugal.