10 December 2018
Revista F.Fonseca Processo, Instrumentação e Ambiente, setembro 2018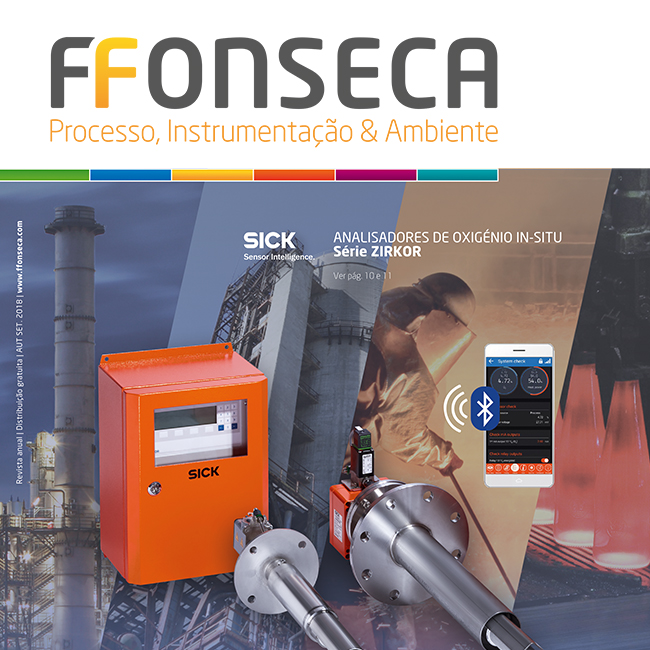 Get to know the most recent process, instrumentation and environment forefront solutions in the September 2018's edition of our magazine, available both in paper and digital format.
This publication is not just about products, services and solutions, but also about the human activities that F.Fonseca so much appreciates. Take a peek and keep up with the latest initiatives!
The brands we present you are innumerous. You will find news about Advantech, Sewerin, Jumo, Sick, Kobold, Industrial Scientific, Presys, Impac, Metrel, Testo, Synergys Technologies, Additel and Mitsubishi Electric.
In the analytics' segment, the cover theme is about Sick's analyzers with zirconium dioxide sensors! Thought with detail, easy to operate and with a new application associated, "Zirkor Remote", that allows you to connect to equipment by Bluetooth.
In the industrial networks' segment the highlight goes to the world's smallest industrial Ethernet Switch! The Advantech's EKI-2525LI has such small dimensions that can fit on the palm of your hand, making it the perfect solution for locations, closets or machines with limited space.
Developed to monitor and measure small and medium conductive liquid streams in pipelines, the new Kobold's electromagnetic flow meter MIM is another great novelty in the process' segment of this edition.
Finishing the cover's headlights, the Presys' calibrator TA-650P, in the temperature's segment, is an equipment of excellent performance, executing functions that would need three different instruments: dry block type thermal bath, standard thermometer and TC's calibrator, RTDs, mA, mV, ohms and thermostats. Besides all these functions, it has a data logger mode, Ethernet interface, USB and as an option, HART®'s communication protocol.
We also invite you to check out our 2019's Training Plan, available online here:
www.ffonseca.com/plano-formacao
. Do not miss the chance to enhance your knowledge and your company's productivity!