8 February 2019
Manutenção Website - F.Fonseca presents smart current distribuition Mico Pro® from Murrelektronik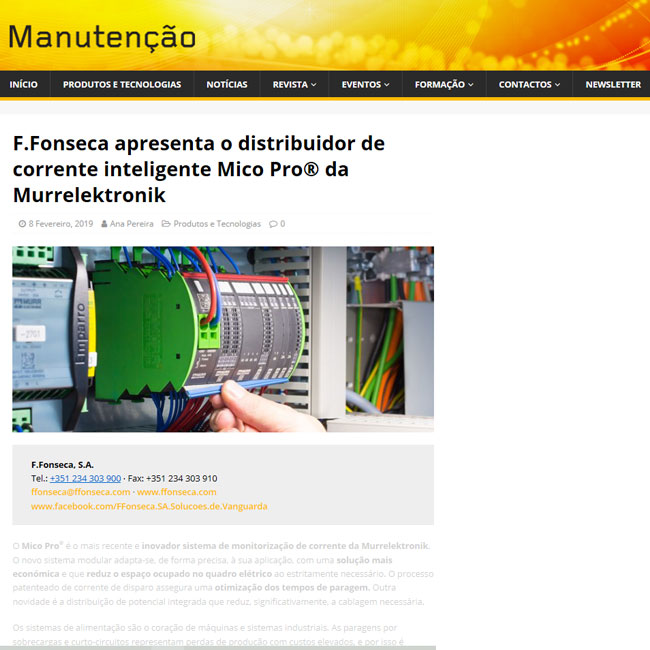 Mico Pro® is the new and innovative current monitoring system from Murrelektronik. The modular system enables you to adapt systems precisely to suit specific applications – offering a favorable cost-benefit ratio while also being economical in their use of space. The patented tripping process assures optimum machine availability. An additional benefit: an
integrated concept for potential distribution
that significantly declutters the switch cabinet wiring.
Power supply systems are the heart of machines and systems and provide the required energy. This is why they must not be shut down by overcurrents or short-circuits which result in machine downtime, production losses and high costs.
Maximum reliability
of the power supply systems is essential!
Mico Pro® from Murrelektronik
guarantees reliable power supply systems. This intelligent current monitoring system from Murrelektronik monitors all load and control currents in a consistent manner and identifies critical moments at the right time. Mico Pro® signals limit loads and
switches defective channels
off in a targeted manner to prevent total system crashes, and to assure a high level of machine availability. The tripping process has been patented, and applies the principle of "as late as possible, as early as necessary." But Mico Pro® also identifies "volatile" errors, such as a cable break in drag chains that only occurs at certain movement angles.
Mico Pro®
identifies capacitive loads
and starts them up in a
controlled way.
Mico Pro®
is suitable for application in all industries.
Download

145,3 KB