15 August 2018
Manutenção Website - Techman Robot Day: come and meet the collaborative robots on September 20 at F.Fonseca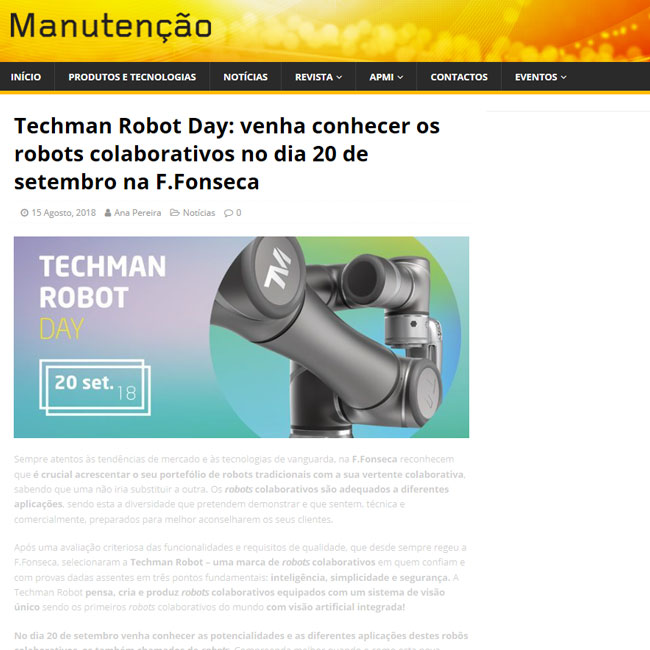 Always attentive to market trends and high tech technologies, F.Fonseca recognizes that it is crucial to add its portfolio of traditional robots with its collaborative side, knowing that one would not replace the other. Collaborative robots are suitable for different applications, this being the diversity they want to demonstrate and that they feel, technically and commercially, prepared to better advise their clients.
After a careful evaluation of the functionalities and quality requirements, which has always governed F.Fonseca, they have selected Techman Robot - a brand of collaborative robots they trust and with evidence based on three fundamental points: intelligence, simplicity and security. Techman Robot thinks, creates and produces collaborative robots equipped with a unique vision system being the first collaborative robots in the world with integrated artificial vision!
On September 20, you will learn about the potentialities and different applications of these collaborative robots, the so-called cobots. Understand better when and how this new technology can be used in human-machine collaboration, demarcating itself from a confusing, dangerous and stressful work environment, with results at the level of efficiency and production much more competitive, always in collaboration with its operator. Sign up by September 14 at
www.ffonseca.com/tmrobotday
.
Download

132,4 KB