4 January 2019
WebSite Renováveis Magazine - F.Fonseca presents a new generation of Murrplastik cable drag chain System from Murrplastik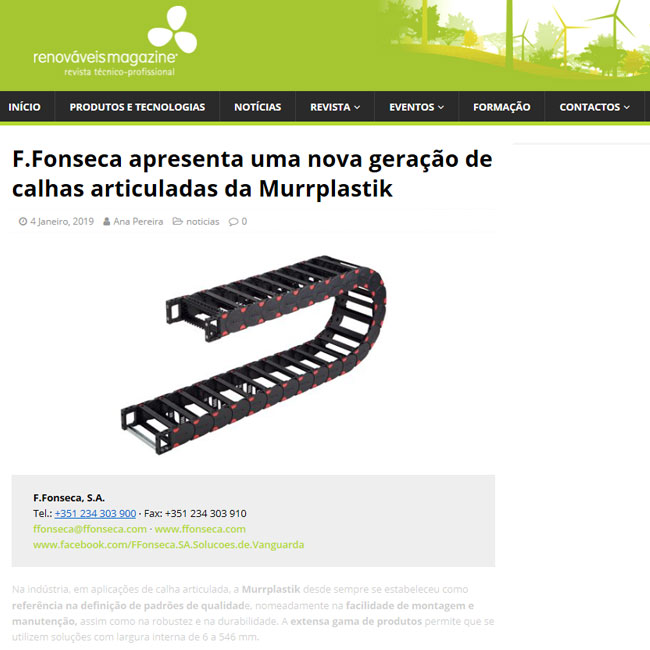 A new generation, the sturdiness of ever!
In industry, in cable drag chain system applications, Murrplastik has always been established as a benchmark in the definition of quality standards, namely ease of assembly and maintenance, as well as robustness and durability.
The wide range of products allows solutions with internal widths from 6 to 546mm.

The experience gained over the last 30 years and the constant sharing of information with the industry have helped to develop innovative products and to extend solutions and product ranges. The contribution of manufacturers of machines and installers was decisive in the development of this new generation of cable drag chain system. The whole experience was put into these new series. The easy and versatile mounting is maintained together with robustness, extremely quiet work combined with high stability and long cable life, in addition to the many fastening options.
The ease of placement and removal of lids has always been a distinguishing feature. The procedure for fixing the lids can even be done without tools, quickly and with very little effort.
The cable tension relief fittings are easily applied to the terminals which in turn allow you to attach to different angles: above, below and below.

New series of cable drag chain system.
To help design and choose the best solution, Murrplastik offers the Chainbuilder 2.0 platform. This allows simple online configuration for any Murrplastik cable gutter. It has a user-friendly interface in sequence, with an intuitive selection of accessories and materials. The end result is a detailed listing of the required material that is generated automatically and the availability of the 3D-CAD models.
Made of plastic or aluminum.

This new generation of Murrplastik cable drag chain system is suitable for application in all industries.
Download

132,0 KB