9 October 2018
WebSite Renováveis Magazine - F.Fonseca presents magazine F.Fonseca Automation Industrial, september 2018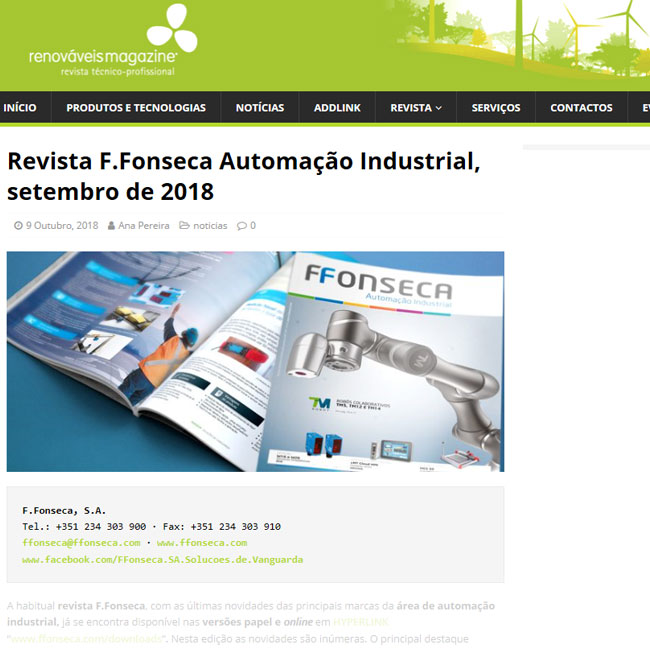 The F.Fonseca magazine, with the latest innovations from leading industrial automation brands, is already available in paper and online versions at
www.ffonseca.com/downloads
.
In this edition the novelties are numerous. The main highlight is undoubtedly the new brand of F.Fonseca, the Techman Robot. In this edition, you will not only be able to read articles about the TM5, TM12, TM14 and TM-M collaborative robots, but also about the "Techman Robot Day" event that took place on September 20 and accomplish almost hundred participants. Most of the other pages are dedicated to Sick, a market reference and exclusive F.Fonseca brand.
The new family of photoelectric sensors W16 and W26 is one of the innovations highlighted and proves that it is prepared for the challenges of the future, especially for applications where there may be many bright spots, many reflections and many vibrations. Intelligent control and monitoring of Man-Machine interfaces with Weintek Labs cMT Cloud HMI consoles also gain a prominent place in this communication, since in the era of the Industrial Internet of Things (IIoT) links to field equipment, PLCs, I / Os, variable speed drives and other HMI, are as important as connectivity with the top management level, such as SCADAs, MES, ERP. Last but not least, the Murrplastik Trapholite recorder in the electric panel segment is the featured product. But many other brands are covered in this edition as Tpl Vision, Mitsubishi Electric, Solcon, Advantech, HMS, Murrelektronik, Rittal, Wieland Electric, among others.
As always this magazine is not only about products communication, services and solutions, but also regarding the human activities of F.Fonseca. These are highlighted with some of the recently promoted initiatives, like teambuilding activity and the talk with the incredible Paulo Azevedo! On that day we were reinforced by the message that "being difficult does not mean being impossible" and this message was so impacting that our training department decided to divulge it externally, becoming now part of F.Fonseca's training offer. On October 26th, the first public lecture will be held at F.Fonseca, so that everyone can access messages with this level of impact and, as a result, serve as a catalyst in personal and / or professional of each one. Sign up for the F.Fonseca website and you will not regret it.
Download

166,9 KB