18 April 2019
WebSite Renováveis Magazine - F.Fonseca presents the energy packs for all robots from Murrplastik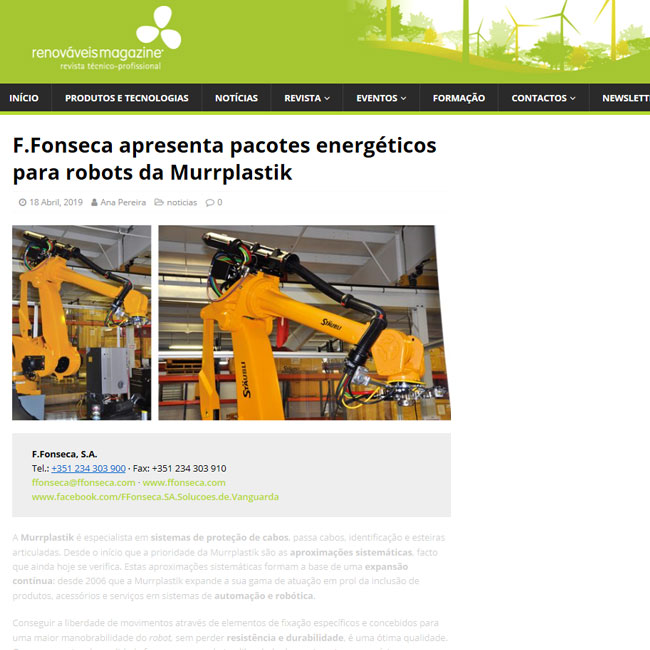 Murrplastik specializes in cable protection systems, cable gutters, identification and articulated mats.

Achieving freedom of movement through specific fasteners and designed for greater maneuverability of the robot, without losing its strength and durability, is an exceptional quality. There is nothing the same or similar for robots and automation! Quality components provide robots with the freedom of movement required for high working speeds and for repetitive and accurate movements during their long service life.

Murrplastik energy packs are the ideal solution for robots and automation. Universal fasteners, available for all types of make or model of robots on the market, can be combined and customized to serve as the basis for the hydraulic, pneumatic and electronic components that will constitute the robot's energy package. All these elements are compatible with the energy pack tubes of any brand of the market, facilitating the procedures of maintenance and reconfiguration.

Murrplastik specializes in developing cable protection systems for complex robotic applications subject to high stress and movement. Specially shaped materials, as well as the special geometries of the conduits, ensure the best protection for a long life.

With R-Tec Box, Murrplastik was able to create a new optimized power pack management system for industrial robots, from axis 3 to shaft 6. AR TEC BOX was specially designed with a single spring return system and complements a package Safely and efficiently guided in an extremely small space.


Download

147,1 KB