18 July 2018
Website Robótica - F.Fonseca presents new possibilities for HMS industrial wireless solutions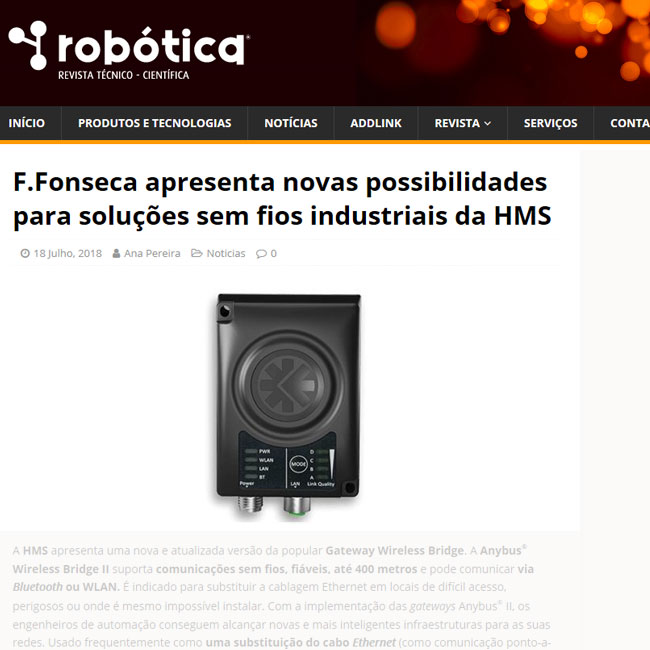 HMS features a new and updated version of the popular Anybus Wireless Bridge. The Anybus Wireless Bridge II supports reliable wireless communications, up to 400 meters and can communicate via Bluetooth or WLAN. It is ideal for replacing Ethernet cabling in locations that are difficult to access, dangerous or where it is impossible to install.

Replacing the cable or access point
With the implementation of Anybus Wireless Bridge II, automation engineers are able to achieve new and smarter infrastructures for their networks.
Frequently used as an Ethernet cable replacement (like point-to-point communication), the Wireless Bridge II can also be used as an access point for several WLAN / Bluetooth nodes such as smartphones or tablets. In this process we achieved great savings thanks to reduced use of Ethernet cabling.

What's new?
The new Anybus Wireless Bridge II supports greater range in the wireless network (400 meters) and has included in its construction an even more powerful wireless antenna.
The Wireless Bridge II is easy to set up, either by buttons or through the new integrated web interface.

Network Troubleshooting for System Integrators
By connecting industrial devices and networks over a wireless connection, the Anybus Wireless Bridge II makes life easier for system integrators and automation engineers who sometimes need to create connections through high-risk areas, difficult access or mobile installations where cables are not desirable.
Anybus Wireless Bridge II is a proven solution for establishing communications in the most common industrial networks such as PROFINET, EtherNet / IP, BACnet / IP and Modbus TCP, providing users with robust, maintenance-free wireless connectivity.

This gateway is suitable for application in all industries.
Download

148,6 KB