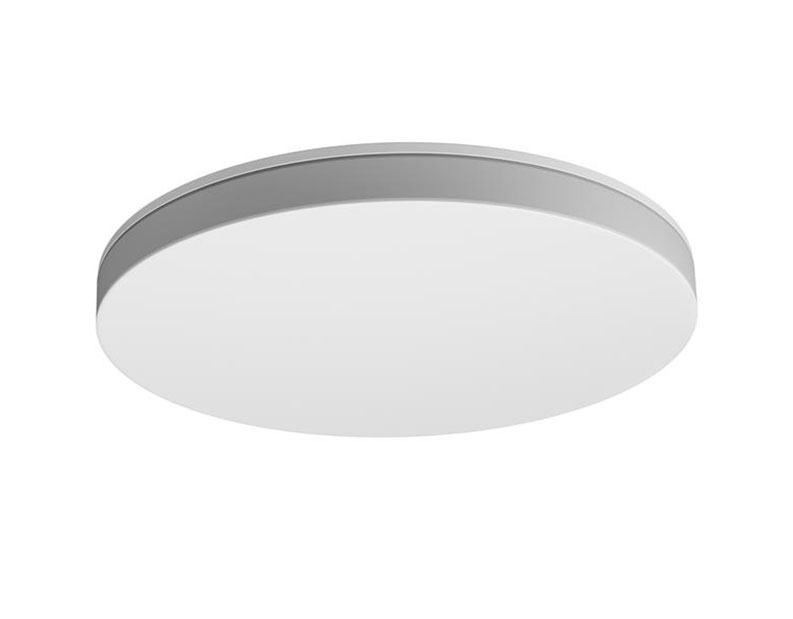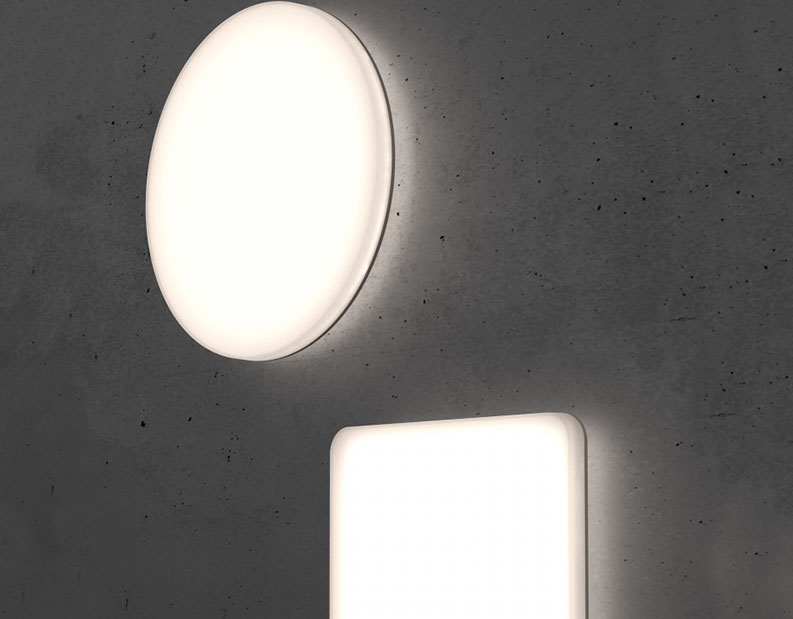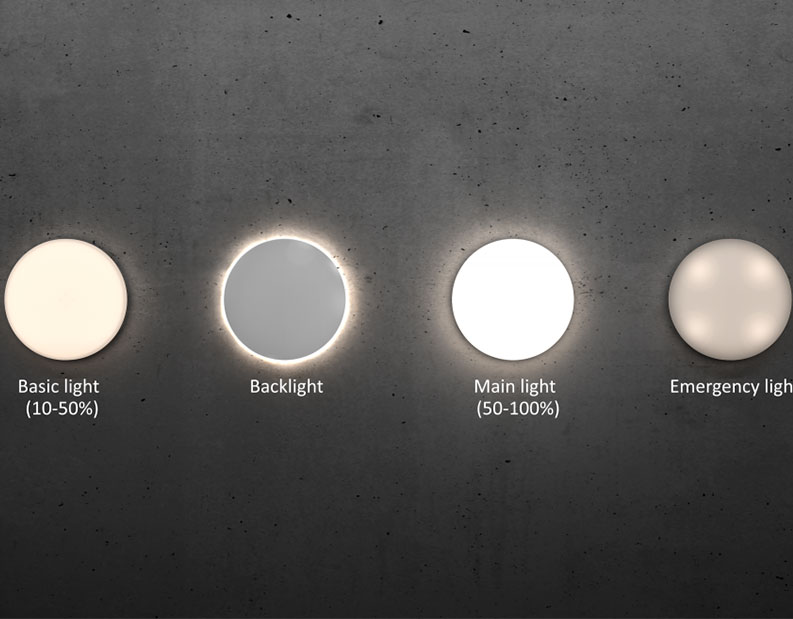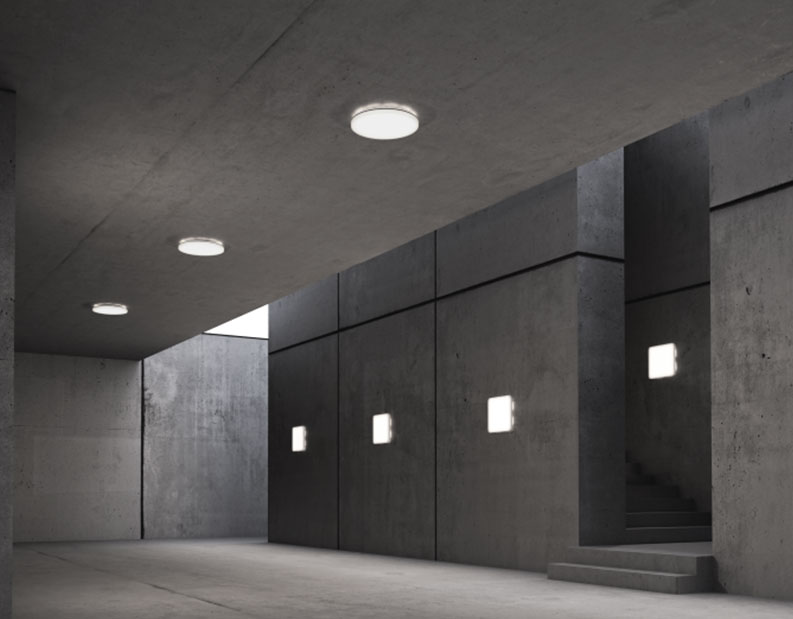 Round. And impressive all round. Connected lighting is as easy as this! The Steinel digital RS PRO Connect R10 sensor-switched light is wirelessly adjusted via Bluetooth and app. Four lighting functions: basic light level; backlight; dimmable main light; and emergency light. High-precision HF sensor for reliable detection (10m reach). The opal diffuser shade provides an even distribution of light. Output of 9W, with 1100/1130lm and 3000/4000K, with ø300x55mm.

Sensor-switched light 4.0 – perfectly interconnected. In the future too.
Connected lighting perfection: wirelessly adjustable via app, the RS PRO Connect R-series with four light functions (basic light, backlight, dimmable main light and emergency light) is the most intelligent and user-friendly digital sensor-switched light system on the market – and truly impresses planners, electricians and building owners alike.
The RS PRO Connect R series skilfully combines clean-cut, universally suitable design and optimum illumination with extremely easy installation and interconnection via app. Thanks to modern Bluetooth technology as well as update and IoT capability, the digital sensor-switched light system is absolutely future-proof. And impresses with high-precision HF sensor, outstanding efficiency (134 lm/W) and perfectly even light distribution. With two enclosure designs (round/square) and five sizes, the RS PRO Connect R-series provides the right solution for every taste and need with lighting up to a maximum of 3150 lumens – in neutral or warm white light. Basic and main light level are easy to set via smartphone. Optionally selectable via app, the backlight creates a particularly inviting lighting mood. The convenient neighbouring-group function ensures seamlessly efficient lighting at all times. In the event of a power failure, the optional emergency light module powered by rechargeable battery reliably provides sufficient light.
Upshot: whether for new build or refurbishment – the Steinel RS PRO Connect R series is by far the most comprehensive lighting solution of our time.
Features
RS PRO Connect R10, NW
057046
---
RS PRO Connect R10, WW
057039
---
Dimensions (Ø x H)
300 x 55 mm
---
Power supply
220 – 240 V, 50 / 60 Hz
---
Sensor type
High frequency
---
Output (lights)
9 W
---
Luminous flux, NW
1130 lm
---
Luminous flux, WW
1100 lm
---
Colour temperature NW
4000 K / SDCM 3
---
Colour temperature WW 3
000 K / SDCM 3
---
Colour rendering index
80 - 89
---
LED life expectancy
55,000 h (L80B50)​​​​​​​
---
Angle of coverage
360º
---
Reach
Ø 1 - 10 m​​​​​​​
---
Twilight setting
2 – 2000 lx​​​​​​​
---
Time setting
5 sec. – 30 min.​​​​​​​
---
Basic light level
10 - 50%
---
Main light level
50 - 100%
---
Soft light start
Yes
---
IP rating / Protection class / Impact resistance
IP40 / II / IK07​​​​​​​
---
Settings
via Bluetooth
---
Connectivity
Neighbour/Group Wireless via Bluetooth​​​​​​​
---
Material
plastic (base) and PC Opal (shade)​​​​​​​
---
Manufacturer's Warranty
5 years
---
Advantages
Interconnectable and adjustable via Bluetooth;
Backlight function;
Optional basic lighting level 10 - 50%;
Optional basic light level 50 - 100%;
Soft light start;
Optional emergency light;
Metal shrouds for defining the direction of sensor detection.
Industries
Airports;
Commercial spaces;
Hospitals;
Hotels;
Industrial buildings;
Office buildings;
Schools.
F.Fonseca is the representative of Steinel in Portugal.