Process, Instrumentation & Environment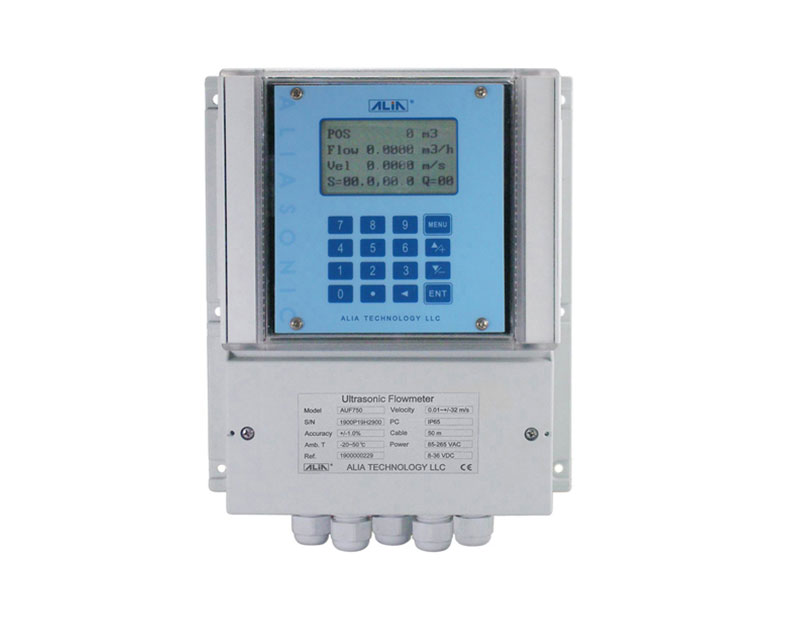 Transit-time ultrasonic flowmeter – model AUF750 series.

The AUF750 is a fixed mounted, transit-time ultrasonic flowmeter. It features clamp-on style transducers for non-invasive measurement of clean homogeneous liquid processes. This user friendly, microprocessor based, field programmable flowmeter ensures that the flow of existing processes can be performed without interrupting the flow and has very low installation costs.

Features
4 line LCD display with flowrate, totalizer and signal condition;
Batch control function;
Wide range velocities of 0.01 to +/- 32 m/s;
Transducers for pipe size from 15 - 6000 mm;
SD card (16 G) Data-Logger (flowrate, totalizer, time, energy, etc.).
Advantages
Stores up 64 day / month / year totalizer daily value;
High accuracy of +/- 0.5% of reading;
Built-in magnet in transducers, no need for steady tool on metal pipe;
Response time less than 1 second;
Non-invasive (no process shutdown required for installation and maintenance).
Industries
Industrial process applications;
Water treatment.
F.Fonseca is the representative of ALIA in Portugal.