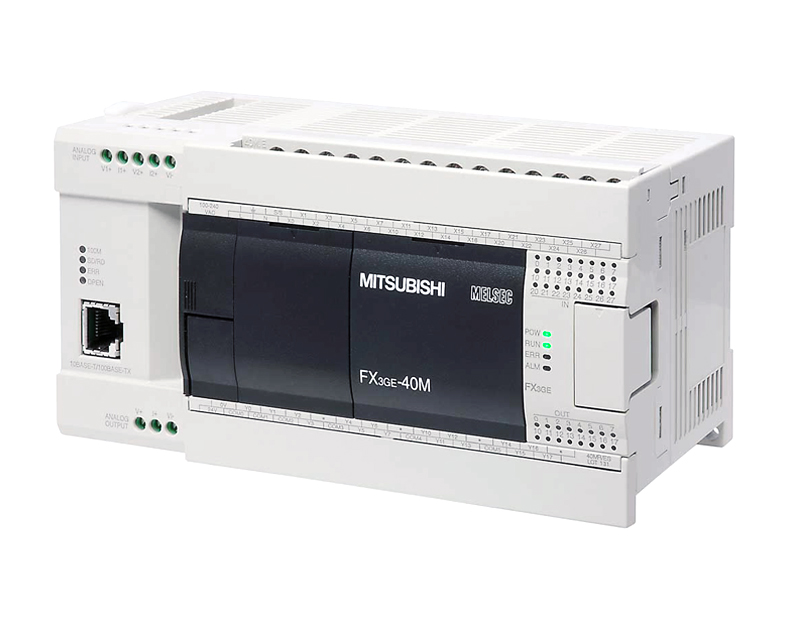 While being intended for smaller systems, the new Mitsubishi Electric FX3G series delivers a powerful combination of essential features, plus more not expected from a controller at this level.

The brand new FX3GE models adds built-in analog input/output and Ethernet connectivity on top of all generous FX3G features. These include; a large program memory, ample space for data storage, logging or recipes, plus high speed execution to enhance system productivity. A dual bus architecture provides flexible expansion possibilities for additional I/O capacity and communication functions.

Features
3rd generation compact MELSEC PLC;
AC powered 24 or 40 I/O models with relay outputs;
Transistor output models currently scheduled for this autumn;
DC powered models currently scheduled for this winter;
Dual bus architecture - 32k steps of internal program memory;
Integrated real-time clock;
Easy programming with large instruction set;
Two analog inputs and one analog output, each selectable current/voltage;
Programming with GX Works2.
Advantages
Built-in Ethernet interface for programming and HMI/SCADA interface;
Web monitoring.
Industries
Food industry;
Wood cutting machines;
Analog control data for injection molding machines;
Labelling machines with network features.
F.Fonseca is the representative of Mitsubishi Electric in Portugal.