Login
MyFFonseca
If you do not have an account MyFFonseca, please register and get access to exclusive content to registered users!
Create registry
Login
MyFFonseca
If you do not have an account MyFFonseca, please register and get access to exclusive content to registered users!
Create registry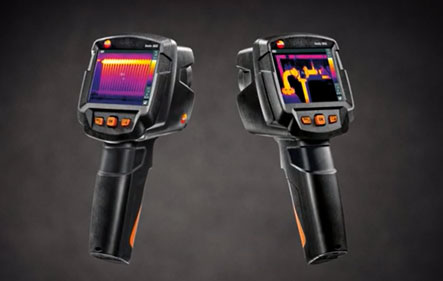 Process, Instrumentation & Environment
The new thermographic camera Testo 868
Thermography is a non-invasive method that allows the acquisition of temperature values through the emission of infrared rays.
With the thermographic analysis, it is possible to predict that a certain component of a machine may be reaching its end of life and to program a preventive intervention, minimizing unforeseen stops, reducing costs and deadlines in the delivery of the works. However there are several applications where thermography can be used.

The new thermographic camera Testo 868 has the best image of its category and simplifies as much as possible the analysis of buildings and installations.


Using a thermal imager you can benefit considerably in both the construction industry and the industry sector.
The
Testo 868 thermal imager
enables real-time maintenance and prevent costly plant shutdowns.
Features
High resolution and image quality up to 320 x 240 pixels;
Thermal sensitivity <100 mK;
Measuring range -30 ... +650 ° C;
Field of view 31 ° x 23 °;
WLAN and USB cable;
Integrated digital camera;
Automatic adjustment of emissivity.
Advantages
With Testo ScaleAssist, the correct evaluation of building failures and thermal bridges is easier than ever because the function automatically adjusts the scale of thermal images in an ideal way, avoiding misinterpretations that may arise due to a wrong scale setting;
To obtain accurate thermal images, it is important to adjust the emissivity (ε) and the reflected temperature (RTC) of the object to be examined in the camera. So far, this was quite complex and, moreover, imprecise in relation to the reflected temperature. With Testo ε-Assist this will be changed by simply placing one of the reference labels provided (ε-Marker) on the object to be measured and using the integrated digital camera. The thermal camera recognizes the label, calculates the emissivity and the reflected temperature and adjusts the two values ​​automatically;
With Testo Thermography App free and available for iOS and Android, you can quickly create compact in situ reports, save them online and email them saving you time and resources.
Industries
It can be used by various professionals such as builders of heating systems, electricians, masons, maintenance technicians and building managers;
Carry out work such as leakage locations or facility testing;
Check correct placement of insulation;
Locating thermal anomalies and leaks in piping;
Detection of too high temperatures on fuses and electrical components before faults occur;
Detection of energy losses in buildings: Immediate detection and illustration of thermal bridges on facades or in the building.
F.Fonseca is distributor of Testo in Portugal.