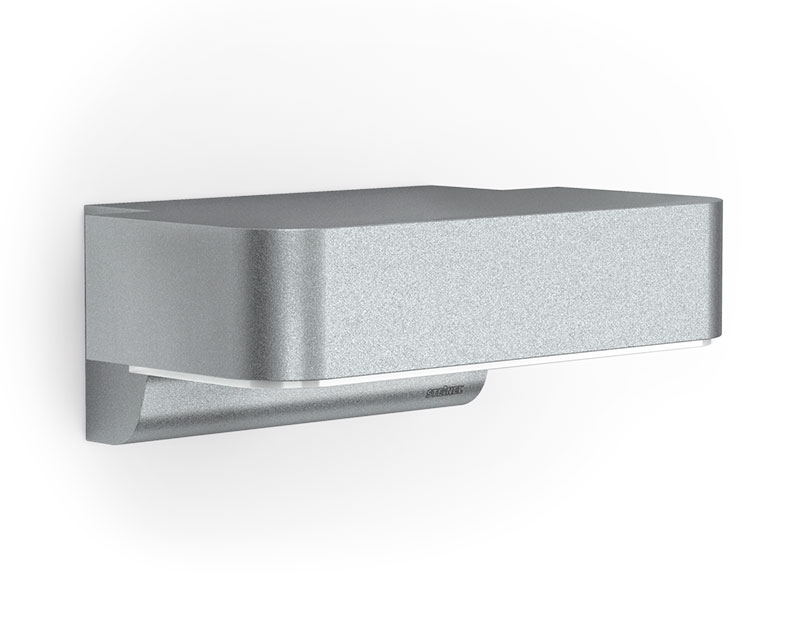 With invisible iHF sensor.
The most modern outdoor light in the world. Designer sensor-switched outdoor light L 800 LED iHF with invisible high-frequency sensor, ideal for building entrances and fronts of buildings, 10 W STEINEL LED lighting system, 440 lm, 160° coverage angle, reach from 1 - 5 m, for stylish downlighting, includes soft light start and optional manual override for 4 hours.

This outdoor SensorLight translates intelligence into magnificent looks and technology. This high-quality designer piece is meticulously thought through and crafted with particular care from long-life materials. In developing new lights, our products' future value is also important to us. Intelligent technology has a permanency and constancy about it – it is brighter, cooler and smarter. For the first time, we have managed to make a light's sensor completely invisible. The result is an LED downlight product for illuminating your home's exterior walls to stunning effect. The L 800 iHF Downlight. Optional manual override for 4 hours.
Features
L 800 LED iHF downlight silver
671419
---
L 800 LED iHF downlight Anthracite
035747
---
Dimensions (H x W x D)
88 x 230 x 145 mm
---
Power supply
230 – 240 V, 50 Hz
---
Sensor type
iHF 5.8 GHz (intelligent high-frequency technology) approx. 1 mW
---
Output
10 W
---
Luminous flux
440 lm
---
Colour temperature
3000 K / SDCM 3
---
Colour rendering
Ra ≥ 80
---
LED life expectancy
50,000 h (L70B10 to LM80)
---
Angle of coverage
160° with sneak-by guard
---
Reach
1 – 5 m
---
Twilight setting
2 – 2,000 lx
---
Time setting
5 sec – 15 min
---
Basic light level
10%
---
Soft light start
Yes
---
Manual override
selectable, 4 h
---
IP rating/ Protection class
IP44/ II
---
Material
aluminium, UV-resistant plastic
---
Advantages
Safety, convenience and energy saving because light comes 'ON' automatically;
Steinel multi-lens technology for all-round detection without blind spots;
High number of switching zones for reliable coverage;
Fast installation;
Attractive design.
Applications
Building entrances;
Fronts of buildings.
F.Fonseca is the representative of Steinel in Portugal.