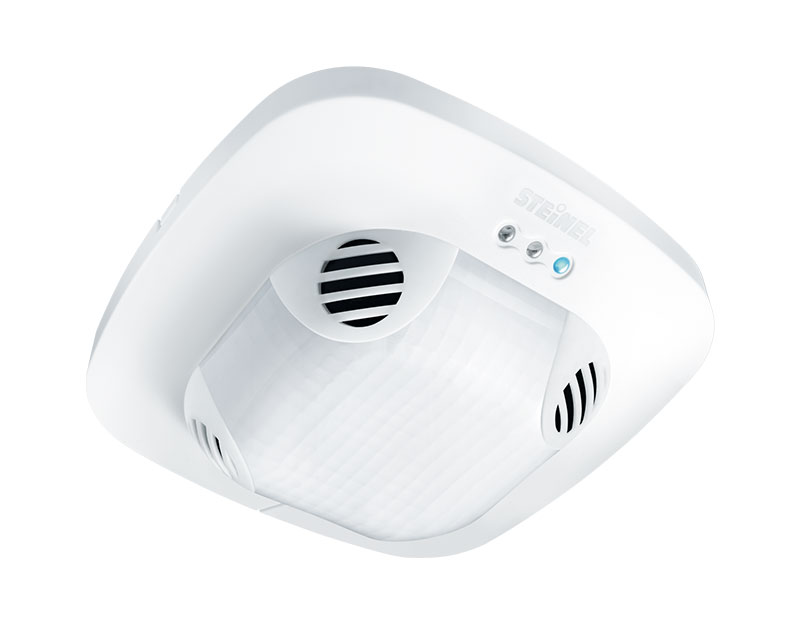 The best of both worlds. Combined in one detector.
The best of both worlds. Combined in one detector. Ultrasonic presence detector DualTech, ideal for offices, conference rooms and class rooms. 36 sq.m. presence zone, ultrasonic technology provides reliable detection behind objects regardless of temperature, additional detection capability with PIR technology, electronic adjustment for ultrasonic reach, COM1 for switching light ON and OFF.

Offices, conference rooms and classrooms come with their own particular spatial situations that don't exactly make it easy to provide efficient lighting control. That's why we have developed an innovative 360° detector with a 28 sq.m. presence detection zone that uses the best qualities of two leading technologies. This way, the DualTech can also detect movements without visual contact with the sensor. PIR technology provides additional detection capabilities. And maximum reliability.
Features
DualTech, COM1
007997
---
DualTech, COM2
008000
---
DualTech, DIM
008017
---
DualTech, KNX
029494
---
Dimensions (H x W x D)
120 x 120 x 68 mm
---
Power supply
220 – 240 V, 50 / 60 Hz
---
Sensor type
ultrasonic 40 KHz and passive infrared
---
Installation
indoors/ ceiling
---
Recommended installation height
2.5 - 3.5 m
---
Angle of coverage
360º
---
Reach, US
Ø 10 m radial, Ø 6 m presence / tangential​​​​​​​
---
Reach, PIR
3 x 3 m presence​​​​​​​
---
Parallel-connected configurations
Yes
---
User-friendly setting
teach-In (via optional remote control RC8)​​​​​​​
---
Twilight setting
10 – 1000 lx​​​​​​​
---
Twilight setting DIM
100 – 1000 lx, ∞/daylight​​​​​​​
---
IP rating
IP20
---
Enclosure
UV-resistant plastic, paintable​​​​​​​
---
Advantages
Unique square-shaped detection zone;
All the main connection options (high-load relay, 2 outputs, DIM, KNX);
Master-master/master-slave systems;
All products in one and the same design;
Pushbutton/switch input for semi-automatic operation;
Constant-light function, permanent light 'OFF' function;
Can be remotely controlled.
Applications
Offices;
Conference rooms;
Class rooms.
F.Fonseca is the representative of Steinel in Portugal.