Process, Instrumentation & Environment?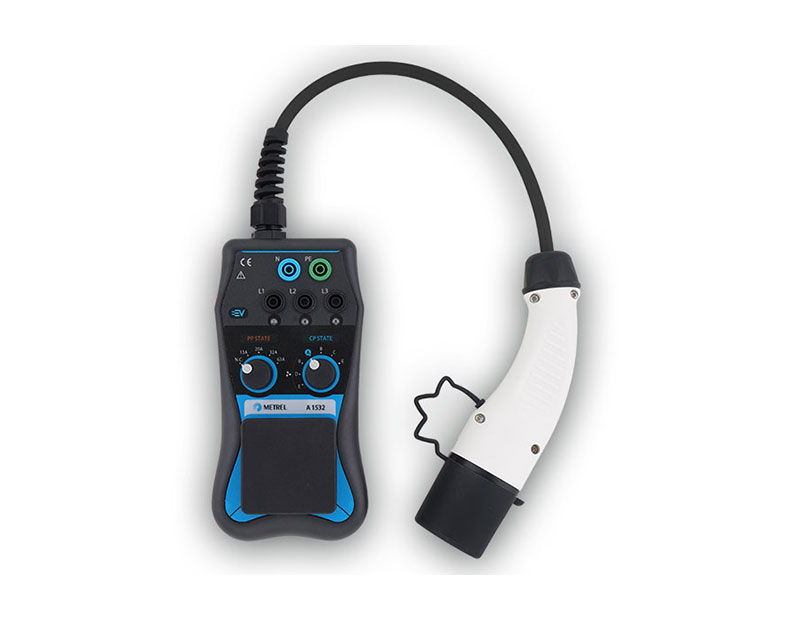 The A 1532 EVSE adapter is a special accessory intended for testing Electric Vehicle Supply Equipment (EVSE) together with supported METREL installation testers.

It is used for verification of electrical safety and functional testing of EVSE. It is intended for testing Mode 3 EV supply equipment with a type 2 connector. If used together with the MI 3152 EurotestXC's AUTO SEQUENCE®, the complete EVSE charging station can be tested (state-by-state) electrically and functionally with a push of a button. It is possible to create a professional station-based report with MESM.

Features
Banana socket outputs for connection to 3-phase installation tester;
Voltage indicators on EVSE output;
Proximity Pilot resistance selector for simulation of EV cable presence and current rating detection;
Control Pilot resistance selector for simulation of electric vehicle status;
Socket output for connection to a 1-phase installation tester (Phase 1, Neutral, PE);
EVSE AUTO SEQUENCE® support*;
MESM report creation**.
Advantages
The A 1532 test equipment that connects to the electric vehicle charger in conjunction with the MI 3152 installation test equipment allows automatic testing with a pre-programmed sequence, requiring only a single button press to start the test;
On the other hand the software of Metrel MESM allows the creation of a report that proves and register the conditions of test and the results of the same serving of cadaster for a certain charger either at the end of its installation or periodically for the purpose of maintenance.
Industries
On-site testing of EVSE charging station installation;
Initial and periodic testing of private, semi-private and public EVSE charging stations.
F.Fonseca is the representative of Metrel in Portugal.