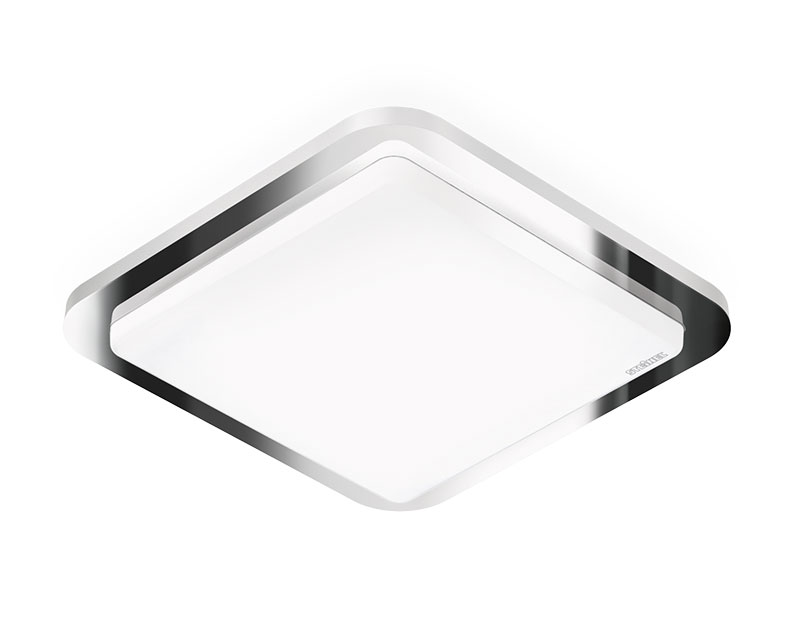 It's always been attractive. Now it's even brighter.
Radiant eye-catcher. Steinel high-frequency sensor-switched indoor light RS LED D1/D2, ideal for corridors, hallways, stairwells and bathrooms. STEINEL LED lighting system, 11W for 600 lumens of light, 360° high-frequency sensor with 3-8 m reach, switches light ON without a sound, with ambient light.

Sleek, attractive lines. Opting for the RS LED D1/D2 designer indoor luminaire, you'll be giving your home a real designer highlight with pleasant LED illumination. With its stunning looks and intelligent technology, this light provides the last word in stylish home convenience. Once fitted to the wall or ceiling, the high-frequency sensor switches it 'ON' and 'OFF' in complete silence and all automatically. The light is child's play to install and the function settings on the product are easy to understand too. Your neighbours will be amazed.
Features
RS LED D1 (chrome-plated metal)
007911
---
RS LED D2 (brushed stainless-steel)
007928
---
RS LED D2 Z-Wave (brushed stainless-steel)
029852
---
Dimensions (H x W x D)
300 x 300 x 65.5 mm
---
Power supply
220 – 240 V, 50 / 60 Hz
---
Sensor type
high frequency 5.8 GHz with transmission power approx. 1 mW​​​​​​​
---
Output
11 W
---
Luminous flux
600 lm
---
Colour temperature
3000 K / SDCM 3​​​​​​​
---
Colour rendering
Ra ≥ 80​​​​​​​
---
LED life expectancy
50,000 h (L70B10 to LM80)​​​​​​​
---
Angle of coverage
360° with 160° angle of aperture​​​​​​​
---
Reach
max. Ø 3 – 8 m, continuously variable​​​​​​​
---
Response brightness
2 – 2,000 lx​​​​​​​
---
Time setting
5 sec – 15 min​​​​​​​
---
IP rating /Protection class
IP20/ II​​​​​​​
---
Material
UV-resistant plastic and plastic diffuser​​​​​​​
---
Advantages
Safety, convenience and energy saving because light comes 'ON' automatically;
Extremely rapid response time;
Reliable, all-round detection regardless of ambient temperature and direction of movement;
Reach, twilight threshold and light 'ON' duration can be set to suit individual needs;
Rapid installation: Sensor and light = 1 connection.
Applications
Corridors;
Hallways;
Stairwells;
Bathrooms.
F.Fonseca is the representative of Steinel in Portugal.