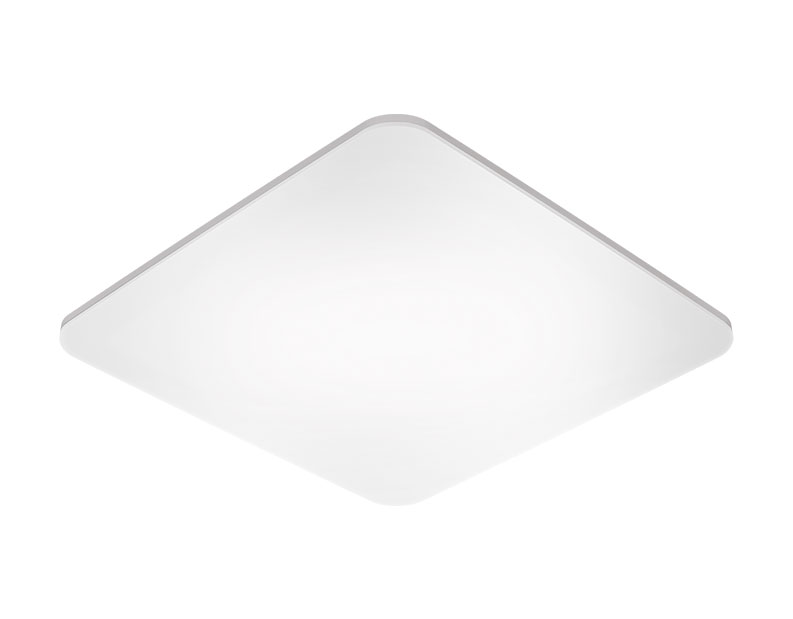 Perfect light pattern. Best technology. Ultra-modern design.
Perfect light pattern. Best technology. RS PRO LED Q1 high-frequency SensorLight, ideal for corridors, thoroughfares and stairwells as well as WC facilities, washrooms and storerooms. 27 W for 2350 lumens of light, 360° detection, optional basic light level, integrated wireless interconnection capability, RGS – Remote Group Setting function, lighting groups, including basic light level, can be synchronised, switches OFF in relation to daylight, 4000 K.

More and more architects and property owners are placing exacting demands on every aspect of their lighting. The RS PRO LED Q1 has no problems meeting them all. As an LED indoor SensorLight of the next generation, it combines trendsetting design and customisable functionality with pioneering technology. On incredibly little energy and providing impressively homogeneous lighting. It is just as easy to install as it is to form lighting groups by wireless interconnection. Group parameterisation provides the capability of relaying all settings on to the other lights in an instant. Hard to believe that we have managed to pack all this into such a slim profile.
Features
RS PRO LED Q1, WW, silver
007126
---
RS PRO LED Q1, WW, white
007133
---
RS PRO LED Q1, NW, silver
007102
---
RS PRO LED Q1, NW, white
007119
---
Dimensions (H x W x D)
331 x 331 x 56 mm
---
Power supply
220 – 240 V, 50 / 60 Hz
---
Sensor type
high frequency 5.8 GHz Transmitter power approx. 1 mW
---
Output (lights)
26 W
---
Luminous flux
2351 lm
---
Colour temperature WW
3000 K / SDCM 3
---
Colour temperature NW
4000 K / SDCM 3
---
Colour rendering
Ra ≥ 80
---
LED life expectancy
50,000 h (L70B10 to LM80)
---
Angle of coverage
360º
---
Reach
Ø 1 – 8 m
---
Twilight setting
2 – 2000 lx
---
Time setting
5 sec – 15 min
---
Basic light level
10 – 50%
---
Soft light start
Yes
---
IP rating /Protection class
IP20/ II
---
Material
aluminium (base) and PMMA (shade)
---
Advantages
Safety, convenience and energy saving because light comes 'ON' automatically;
Extremely rapid response time;
Reliable, all-round detection regardless of ambient temperature and direction of movement;
Reach, twilight threshold and light 'ON' duration can be set to suit individual needs;
Rapid installation: Sensor and light = 1 connection.
Applications
Corridors;
Thoroughfares;
Stairwells;
Washrooms;
Storerooms.
F.Fonseca is the representative of Steinel in Portugal.