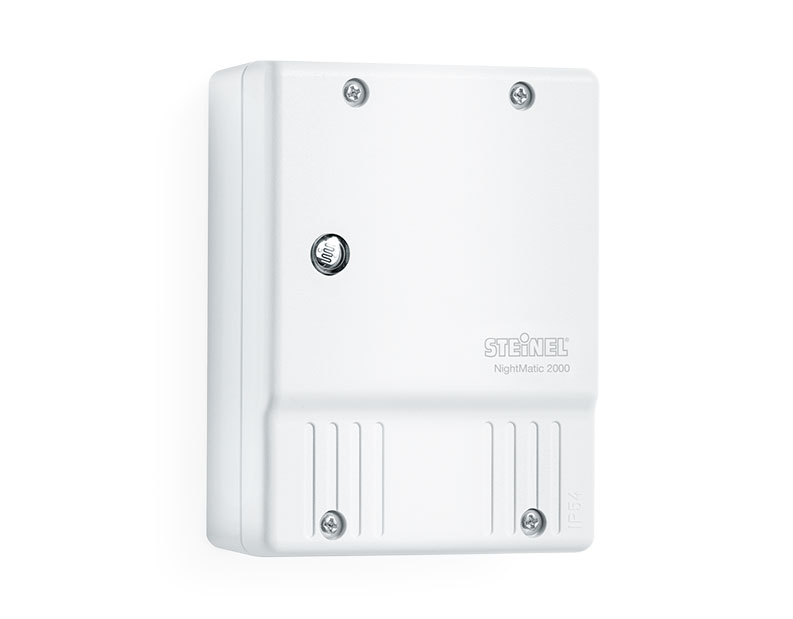 Switches the light 'ON' or 'OFF'. All automatically.
Photo-electric lighting controller NightMatic 2000, for controlling lighting systems for building fronts, properties, shop windows etc., automatically switches light 'ON' at dusk automatically 'OFF' again at dawn.

It's thundering outside and getting dark. You're sitting snugly in the living-room, waiting for your guests. Who'd want to go out and turn the outside light on? The NightMatic 2000 reliably does this for you – whether it's raining, snowing, blowing a gale or you simply have something better to do. Of course, the light-level threshold at which the sensor responds and turns the light 'ON' is defined by no other than you yourself.
Features
NightMatic 2000 white
550417
---
NightMatic 2000 black
550318
---
Type
photo-cell controller
---
Dimensions (H x W x D)
99 x 74 x 37 mm​​​​​​​
---
Power supply
230 – 240 V, 50 Hz​​​​​​​
---
Installation
wall
---
Output
max. 1000 W (resistive load)​​​​​​​
---
Twilight setting
approx. 2 – 10 lux​​​​​​​
---
Intrinsic power consumption
< 0.8 W​​​​​​​
---
IP rating/ Protection class
IP54 / II​​​​​​​
---
Advantages
3 years warranty;
IP54;
100% German quality - made in Europe.
Applications
Office buildings;
Commercial spaces;
Hospitals;
Schools;
Airports;
Hotels;
Industrial buildings.
F.Fonseca is the representative of Steinel in Portugal.