Process, Instrumentation & Environment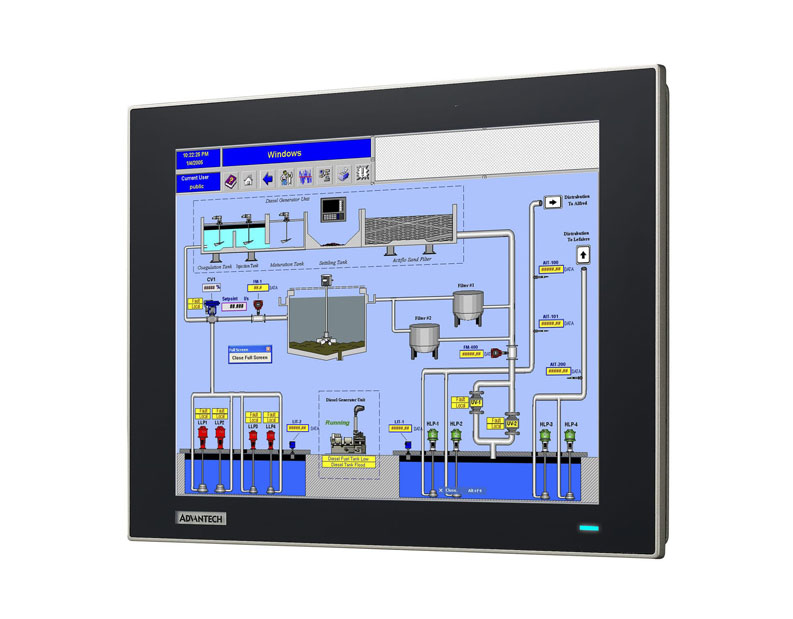 Advantech's Industrial Automation Group (IAG) are pleased to announce the launch of a new range of truly flat panel monitors in a variety of sizes, 6.5", 12" and 15", specifically designed to meet the flexible demands of a wide range of applications and especially in areas which require continuous cleaning.

To be highly durable, the FPM-7000T series is with true-flat touch screen designed yet IP66 front protection, die-cast Al Alloy front bezel and 5-wire resistive touch. It supports wide operating temperatures -20~60°C for diverse user environments. Various mounting methods
allows an easy installation in different environments.

Features
15" XGA TFT LED LCD with 50,000 backlight life time;
Supports Wide operating temperature -20~60°C;
Anti-glare screen with tempered glass;
Supports Panel, Wall, Desktop, Rack or VESA arm mounting;
Lockable I/O connectors.
Advantages
The FPM-7061T, FPM-7121T, and FPM-7151T can be cleaned and operated in a wide range of environments as they are IP66 certified ensuring they are dust-tight and protected against jets of water;
As with all Advantech flat-panel monitors, the FPM-7000T series can be easily mounted on a variety of areas such as panels, and VESA with an optional mounting kit on a stand or walls. To provide a bigger range of options for any industrial environment, these have a similar cut-out design to TPC thin-clients, so they can be interchanged quickly and efficiently.
Industries
Any industry that needs an HMI to interface the machine communication to the user, such as:
Chemical;
Food and beverage;
Steal;
Pharmaceutical;
Factory automation;
Power and energy;
Automotive;
Textile;
Among others.
F.Fonseca is the representative of Advantech in Portugal.