Process, Instrumentation & Environment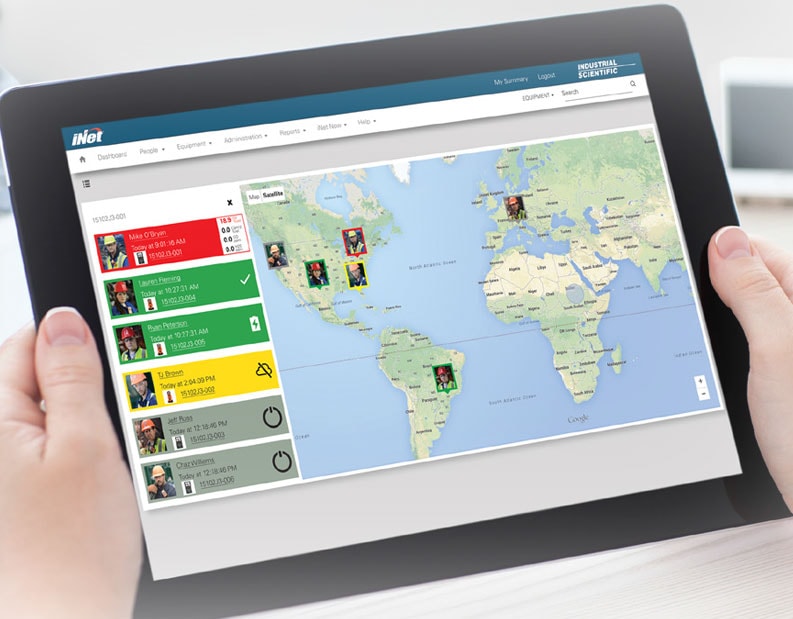 Real-time alerts for gas hazards, panic, and man-down situations.
iNet® Now live monitoring software provides real-time text and email alerts for gas hazards, panic, and man-down situations allowing you to see and respond to incidents as they happen. A map helps you to pinpoint the location of workers and instruments. With iNet Now, you can have confidence that workers are visible, even when you're miles away.

Verify worker status and location in real time:
View a live map to pinpoint where workers are located and whether they have encountered hazardous gas, pressed the panic button, or activated man-down alerts;
Receive notifications and respond immediately when a worker encounters a high alarm, low alarm, TWA, STEL, panic, or man-down situation; alerts are fully customizable by gas level;
Track worker and instrument status even when you're away from the office with real-time text messages, email alerts, and a live map accessible from any web-connected device.
Eliminate the human error and time it takes for lone workers to complete manual check-ins:
View the status and location of workers automatically when their instruments connect to iNet Now;
Verify lone worker status on iNet Now without burdening or distracting workers with manual check in processes or incurring costs of deploying additional workers;
Access workers' phone numbers in their profile for easy contact in emergency situations.
Improve your gas detection program visibility:
Create equipment groups for instruments that you want to monitor in real time and edit or change settings by group;
Improve the reporting of your safety incidents by following up in real time versus days or weeks later;
View a log of real-time alerts to see what hazards were encountered in the field and export data to spreadsheets or other applications for easy reporting and follow up;
Analyze worker or instrument records to understand duration of alarms, time of alarms, monitoring status, and alarm readings;
Monitor personal and area monitors on LENS™ Wireless with a single map and software solution.
What do you need to get up and running with iNet Now?
Ventis Pro Series Multi-gas Monitors with iNet Now firmware version 2.3 or above;
A supported smart device gateway;
The iNet Now Sync app downloaded and installed on a smart device;
An active iNet Now account.
Features
See worker status and location in real time from anywhere;
Customize real-time text and email alerts;
Respond immediately when workers encounter hazards;
Easily manage with cloud-based software.
Advantages
Find out in real-time when there is a safety hazard;
Easy and quick to start;
Check on workers at any time instead of relying on check-ins;
Know worker status and location in real-time.
Industries
Lone workers or mobile work crews in all type of industries:
Chemical;
Construction;
Electrical / gas utilities;
Fire service;
Oil and gas;
Public works;
Steel production;
Water / waste water treatment.
F.Fonseca is the representative of Industrial Scientific in Portugal.