Process, Instrumentation & Environment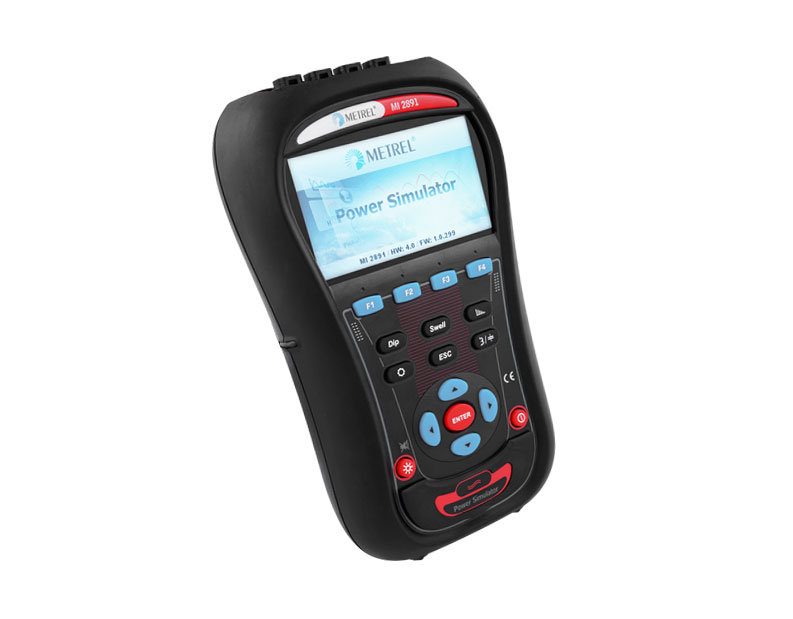 Power Quality has become increasingly important as electrical installations tend to have more and more electronics present, mostly in the form of commuted power supplies, or AC / DC transformers, rectifiers, variable speed drives, LED lighting, among others.

Optimizing Power Quality increases the life of electrical equipment and prevents tripping of differential protections.
The MI 2891 Power Simulator is a multi-purpose three phase power simulator for simulating typical situations in low voltage power supply systems.

It is an excellent tool for training, demonstration purposes, or as an electrical didactic tool.
Features
Simple and powerful waveform generator with various settings;
4 voltage channels with wide simulation range up to 350 Vrms;
4 current channels with current clamps simulation up to 2Ka;
Simultaneous voltage and current (8 channels) simulation, 16 bit DA conversion for accurate signal generation;
Dip, swell, interrupt, signaling, transient and inrush events simulation;
Voltage and current harmonics waveform simulation;
Unbalanced voltage and current waveform simulation;
Square flicker simulation;
Various character load/character type combination simulation;
Thorough signal parameters settings;
Saving current system settings on power off;
4.3'' TFT color display.
Advantages
The simulator has some pre-programmed scenarios and also the option of a complete manual mode;
The user can decide between different load characteristic adjustments, adjustable current and voltage level with a simulation of various different faulty conditions.
Industries
Training purposes;
Demonstration of PQA testing equipment by sales personnel;
Education of students of electro technical specialties.
F.Fonseca is the representative of Metrel in Portugal.