Process, Instrumentation & Environment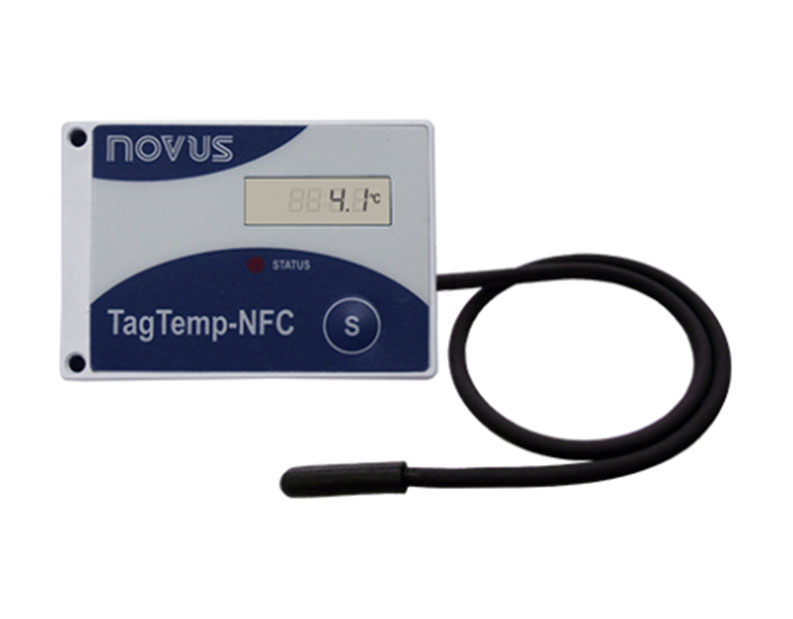 The Novus TagTemp NFC LCD is a portable electronic temperature data logger with local temperature indication. Compact and robust, for refrigerated products transport and storage applications.

The TagTemp NFC LCD internally records temperature values that can later be downloaded via a smartphone application using NFC or via NFC interface for connection to a computer (not included).

Configuration and data collection/visualization can be done using the Android LogChart-NFC application and the NXperience software. With these applications you can easily adjust parameters such as the registration start, the interval between registrations, alarm points, among others.
The operating manual and the NXperience can be downloaded from the NOVUS website. ANDROID™ LogChart-NFC can be downloaded from the Google Play Store.
The model range includes probes with 30cm or 1m and digital input (option).
Features
Temperature measurement range: -40º to 100ºC;
Operating temperature: -10º to 60ºC;
Accuracy: ± 1ºC max. across the measurement range;
Resolution: 0.1ºC;
Memory capacity: 4020 records;
Measurement interval: 1 minute to 4 hours;
Power supply: 3.0V lithium battery (CR2450), replaceable;
Estimated battery life: > 1 year;
IP55;
Dimensions: 65x45x10mm.
Advantages
Small dimensions;
Robustness;
NFC communication;
Digital input.
Industries
Biology;
Chemistry;
Logistics;
Pharmaceuticals.
F.Fonseca is distributor of Novus in Portugal.