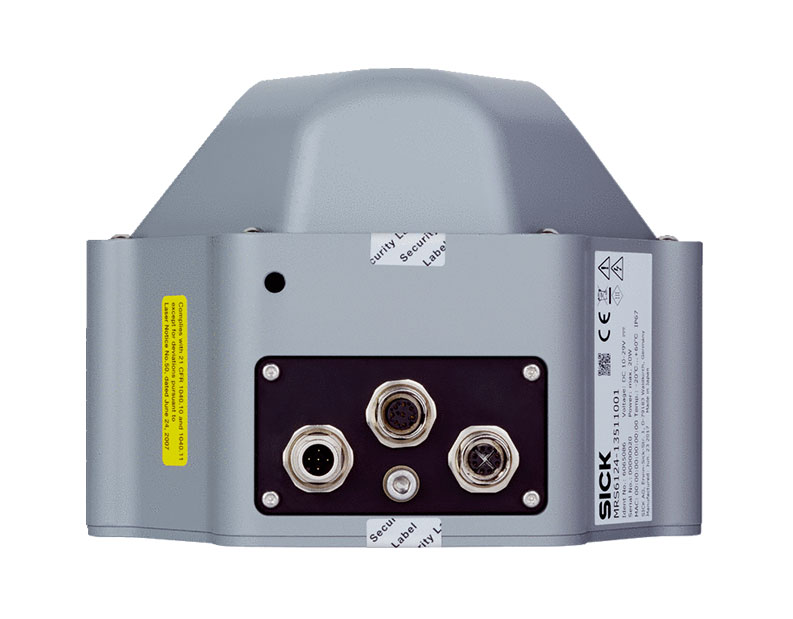 Make the difference visible with multi layers.
The laser scanners multi-layer MRS6000 from SICK uses a high scanning point density and an aperture angle of 120° to reliably detect its environment across 24 layers. Special mirror technology ensures high scanning field stability. With the aid of multi-echo technology, the sensor scans through rain, dust and fog, while simultaneously multiplying the point density. These properties are particularly useful for creating a 3D point cloud without any gaps, which can be used to tackle a whole host of demanding applications.

Typical application areas are, for example, anti-collision monitoring and rear area monitoring in industrial (autonomous) vehicles, person counts in passenger locks, monitoring of land and buildings, volume monitoring, automated guided vehicle systems for outdoors, robot area, traffic and park management systems.
Features
Gap-free detection across 24 scanning layers at an aperture angle of 120°;
Fine angular resolution with high scanning point density;
Reliability thanks to multi-echo technology;
Convenient and customer-friendly web server interface for configuration.
Advantages
The high scanning point density across 24 layers enables reliable detection;
Special mirror technology ensures high scanning field stability;
High resolution (vertical and horizontal) for the precise and rapid detection of a large working range;
Measurement data transferred in real time via the 1-Gbit Ethernet connection;
Compact and rugged design with IP67 enclosure rating for adverse ambient conditions.
Industries
Logistics;
Ports;
Building security;
Tolling systems.
F.Fonseca is the representative of SICK in Portugal.