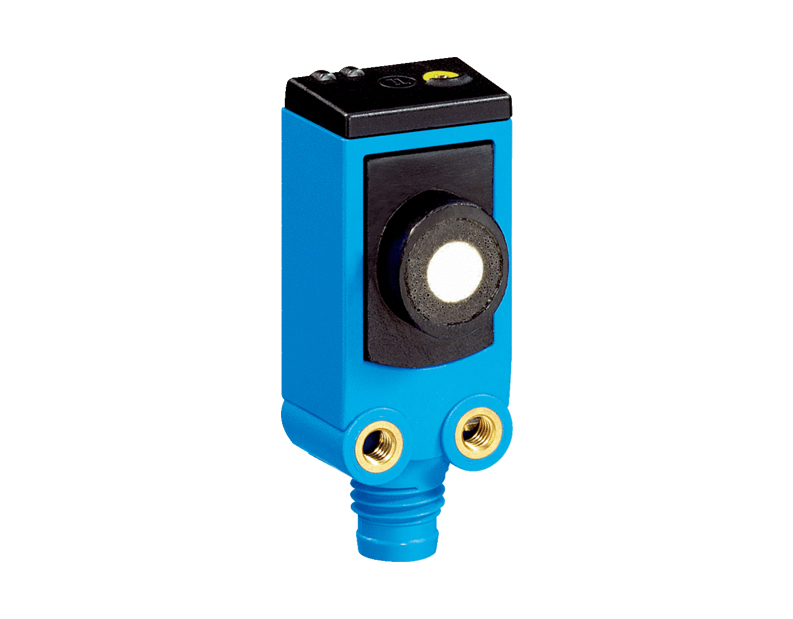 Small, precise, ultrasonic.

Square ultrasonic sensors are true all-rounders. Whether it is position detection, distance measurement or the detection of solid, powdered or liquid substances: Square ultrasonic sensors from Sick demonstrate their reliability and precision in virtually any application

The UC4 square ultrasonic sensor family combines state-of-the-art ultrasonic technology in a miniature housing. With reliable functionality in even difficult operating conditions, the UC4 is a real miniature all-rounder when it comes to demanding, specialized tasks such as detecting transparent objects or measuring the levels of fluids and bulk materials.
Even in situations with high requirements for background suppression or contamination tolerance, the UC4 with switching or analog output has proven itself as the ideal choice. And to top it all off, the portfolio even includes variants with increased switching frequency.
Features
Reliable measurement, regardless of material color, transparency, gloss, and ambient light;
Ultrasonic technology in a miniature housing;
Detection, measurement, and positioning with ultrasonic technology;
Immune to dirt, dust, humidity, and fog;
Variants with PNP/NPN switching output or analog output;
Precise background suppression;
Teach-in button.
Advantages
Mini housing allows for quick and easy integration, even in the most confined spaces;
The sensor's immunity to optically difficult environment enables it to take accurate measurements even in dirty, dusty, humid, and foggy conditions;
Integrated temperature compensation ensures high measurement accuracy at all times for optimum process quality;
Various operating modes provide optimal application flexibility and solutions, which increase reliability and productivity;
Full mechanical compatibility to photoelectric sensors allows for the use of the suitable technology for every application without machine modification;
Teach-in button for fast and easy commissioning.
Industries
Ref. A01106013
F.Fonseca is the representative of Sick in Portugal.