Login
MyFFonseca
If you do not have an account MyFFonseca, please register and get access to exclusive content to registered users!
Create registry
Login
MyFFonseca
If you do not have an account MyFFonseca, please register and get access to exclusive content to registered users!
Create registry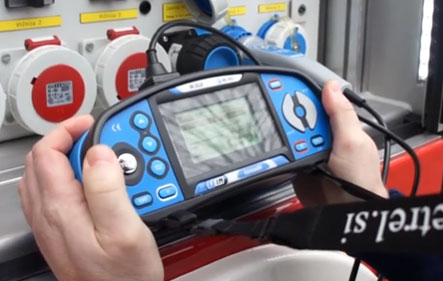 Process, Instrumentation & Environment
Electrical safety tester MI 3110 - Metrel
The best tool for IT earthing systems with the MI 3110.
The IT earth systems are used in places where ground faults cannot disconnect power to the equipment, such as operating rooms, medical transportation, fire trucks, among others.

Two of the most common faults in electrical circuits are overheating of conductors due to excessive heat dissipation or even by insulation faults in system components and very high voltage in existing conductive parts of the equipment.
When there are faults detected in the earth IT systems one device IMD (" Insulation Monitoring Device") only triggers an alarm which allows corrective maintenance to be done when the system can be switched off outside the normal period of use.
This maintenance can be done with the MI 3110, specifically developed to solve this type of faults with various optional accessories.

Features
Compliance with standards IEC / EN 61557, 60364, 61892-6, 61010 and 61326;
Test and adjustment of devices for monitoring the insulation resistance (IMD) between phases and earth;
Measurement of voltage / frequency / impedance / line leakage current;
Includes carrying case, test leads and cables, rechargeable batteries, software EuroLink PRO, USB - RS232 cable manual and calibration certificate;
Possibility to download test results to your computer and create reports through the software;
Allow the test line impedance that should be low enough so that the fuse interrupts the circuit; For this, the MI 3110 creates alarms in case of detection of inadequate protective equipment, poor connections, incorrect installation, incorrect section lengths and conductor installation.
Advantages
Functionality test in auto sequence with possibility to program limit values, which minimizes the human error factor according to IEC / EN 61508;
Ability to edit with the PC software folder names where to save the test results in order to optimize file organization and enable faster search;
Allows the leakage current test to check on failure if voltages in the conductive parts of equipment do not exceed the limits thus avoiding malfunctions, human injuries or even failure of electronic components.
Industries
Security and operation of IT facilities in industry or hospital environment;
Maintenance of electrical circuits in marines, ships, mining extraction, portable generators, construction sites, construction of roads, vehicles and firefight pumps, military and police vehicles, portable communications equipment, airports, music festivals and fairs exposure generators;
Companies processing of special vehicles;
Companies responsible for the initial verification of an electrical installation after completion to verify that the installation was performed according to the respective schematics;
Companies responsible for maintenance of electrical circuits after changes, adding components, changing the circuit or any electrical service;
Companies responsible for the periodic inspection of electrical circuits.
F.Fonseca is the representative of Metrel in Portugal.