27 January 2020
New F.Fonseca Process, Instrumentation & Environment magazine, edition 2020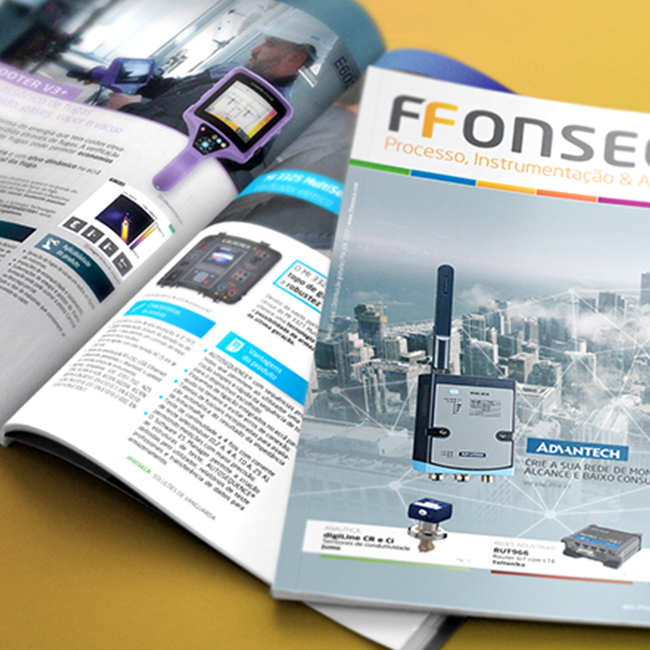 New F.Fonseca Process, Instrumentation & Environment magazine, edition 2020
2019 was a busy year in which F.Fonseca celebrated its 40th anniversary with the representation of new brands, new products, new signings, various events and initiatives!
We seek to share them with you, together with the latest high tech solutions in process, instrumentation and environment, in the January 2020 edition, available in paper and
online
versions.
The brands presented are numerous. You can access news from Additel, Advantech, Detectronic, Impac, Industrial Scientific, Jumo, Kobold, Metrel, Mitsubishi Electric, Presys, SICK, Synergys Technologies, Teltonika, Teledyne and Testo.
Creating a long-range, low-consumption monitoring network using LoRa is one of the challenges proposed on the cover of this edition,
learn how
!
As a new brand in the process segment, F.Fonseca introduces you to Detectronic, founded in 2011 in the United Kingdom, which already has some awards and innovations in its curriculum. Detectronic designs and manufactures a variety of ultrasonic flowmeters for wastewater, water level and quality, for the intelligent monitoring of sewage, wastewater and commercial effluents. It uses ultrasonic flow measurement technology to help water companies manage their networks and processes effectively.
Find out how to easily choose the flowmeter best suited to your application within this publication!
Also inviting you to access the 2020 training plan now, available online at
www.ffonseca.com/plano-formacao
, do not miss the opportunity to increase your knowledge and the productivity of your company!
If you have not yet received a copy of this magazine in your mailbox, you can request it for free via email
marketing@ffonseca.com
or consult it in digital format at
www.ffonseca.com/downloads
.