11 September 2018
Revista F.Fonseca Automação Industrial, setembro de 2018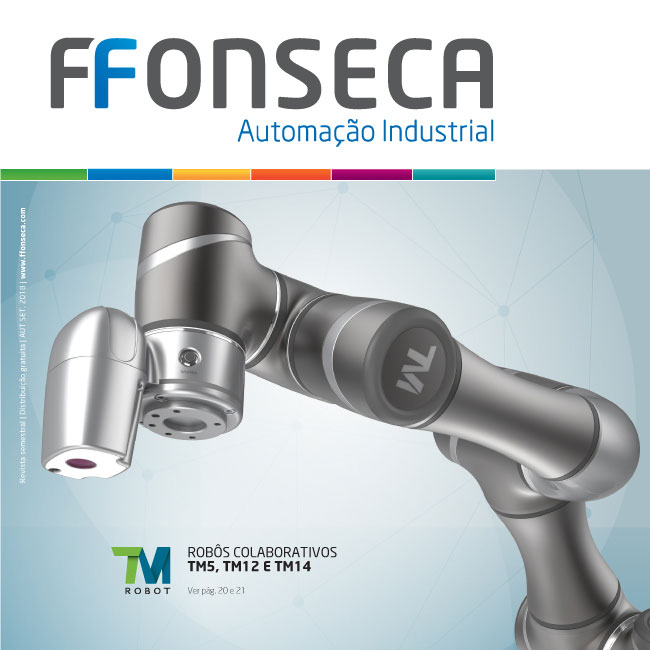 The usual F. Fonseca's magazine with the latest news about the main industrial automation's brands is now available, both in paper and digital format (
www.ffonseca.com/downloads
).
In this edition we have several novelties! The main highlight is, undoubtedly, F.Fonseca's new brand, Techman Robot. In this edition, not only can you read articles about the collaborative robots TM5, TM12, TM14 and the series TM-M, but also about the "Techman Robot Day" event that occurred in the past September 20
th
and was a huge success, with almost a hundred participants.
Most of the other pages are dedicated to Sick, a market leader brand that is represented exclusively by F.Fonseca, in Portugal. The new photoelectric sensors family W16 and W26 is one of the main innovations, proving that Sick is ready for the future's challenges, especially for applications in which many bright spots, reflections and vibrations may exist!
Intelligent control and monitoring in human-machine interfaces through Weintek Labs' cMT Cloud HMI consoles, also earned a place of honor in this communication because in this Industrial Internet of Things (IIoT) era, the connection to field equipment such as PLC's, I/IOs, variable speed drives and other HMI, are as important as the connectivity with the higher management level, like SCADAs, MES and ERP.
Last, but not least, we invite you to take a peek at the new Mussplastik's traffolyte recorder, in the electrical panel segment.
You can find many other brands in this edition. You may read articles dedicated to Tpl Vision, Mitsubishi Electric, Solcon, Advantech, HMS, Murrelektronik, Rittal, Wieland Electric and others.
As always, our magazine is not only about products, services and solutions, but also about our human activities. These are highlighted with some recent initiatives, such as our teambuilding activity and a lecture with the amazing Paulo Azevedo! On that day, we were inspired by thoughts like "being hard doesn't mean being impossible", and this message was so immersive that our Training Department decided to promote this lecture, being part of our training catalogue since then.
On September 26
th
, F.Fonseca will conduct the first lecture, which is going to be open to public so that everyone can have access to these thoughts and use them as catalyzers in their personal and/or professional lives. You can sign up through our website, you will not regret it!
Know everything about this lecture in
www.ffonseca.com/plano-formacao
.