Process, Instrumentation & Environment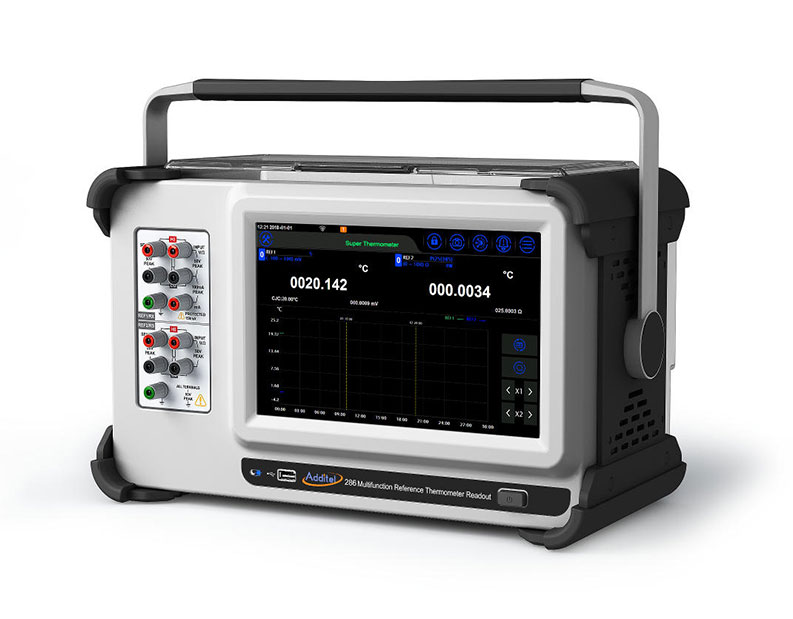 The ADT 286 is industry-first. Additel combined for the first time a high-capacity benchmark thermometer with 8.5-digit multimeter functionality.

The ADT 286 can read and record 82 temperature channels at 10 channels per second. The user can easily configure the equipment to perform field calibrations or uniformity tests, as well as a precision laboratory thermometer or 8.5-digit multimeter. The base unit comes with two precision reading channels that can be used to measure SPRT. Modules capable of measuring 10 RTD's, PRT's or thermistors and 20 thermocouples each can be added. The expansion can be made up to 82 channels.

Features
Read and calibrate SPRT's, RTD's, thermistors and thermocouples;
Accuracy ratio of 1 PPM (channel 1);
8.5-Digit DC multimeter;
Measuring up to 82 channels;
Read samples of 10 channels per second;
Bluetooth, USB and Ethernet (RJ-45);
HART® communication capability;
Automatic control of Additel heat sources and other brands;
Support for creating control of heat sources with RS-232;
Automatic heating compensation;
Supports fully automated temperature calibrations with data collection and reporting (no software required);
Finalist of the IDEA prize.
Advantages
Increased number of measurements and calibrations;
Calibrator control remotely;
Integrated multimeter.
Industries
Calibration laboratories;
Industrial Maintenance;
Quality and Industry.
F.Fonseca is the representative of Additel in Portugal.