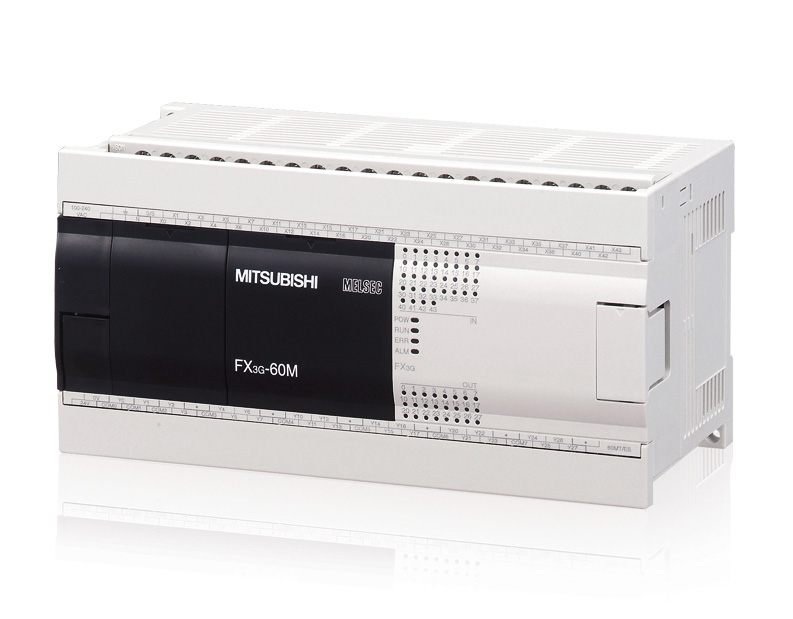 More for less
While being intended for smaller systems, the FX3G still delivers a powerful combination of essential features, plus more not expected from a controller at this level. These include; a large program memory to implement sophisticated algorithms, ample space for data storage, logging or recipes, plus high speed execution to enhance system productivity. A dual bus architecture provides flexible expansion possibilities for additional I/O capacity and communication functions.

Easy system integration
The FX3G can operate as a standalone controller, but for when integration with other system components is required, a range of standard features makes it stand out from the crowd. Mitsubishi builds in standard instructions that permit easy control of our inverters over a precise, reliable digital link. This makes it simple to connect an inverter such as a FR-D700 to provide more precise motor operation while optimizing energy use.
Features
128 I/O points or 256 with Remote CClink;
Memory: 32000 Steps / program (EEPROM);
Instruction time: 0.21 μs;
Inputs: Sink / Source 24V DC (± 10%);
Outputs: relay or transistor;
Quick Counters: 6 (60 KHz).
Advantages
Compact PLC 3rd generation;
100% Compatible with FX1N;
Flexible and Reliable;
Real-time clock Integrated;
Integrated USB programming port;
Functions for positioning with three axes of control.
Industries
All industries.
Ref. A04521106
F.Fonseca is the representative of Mitsubishi Electric in Portugal.