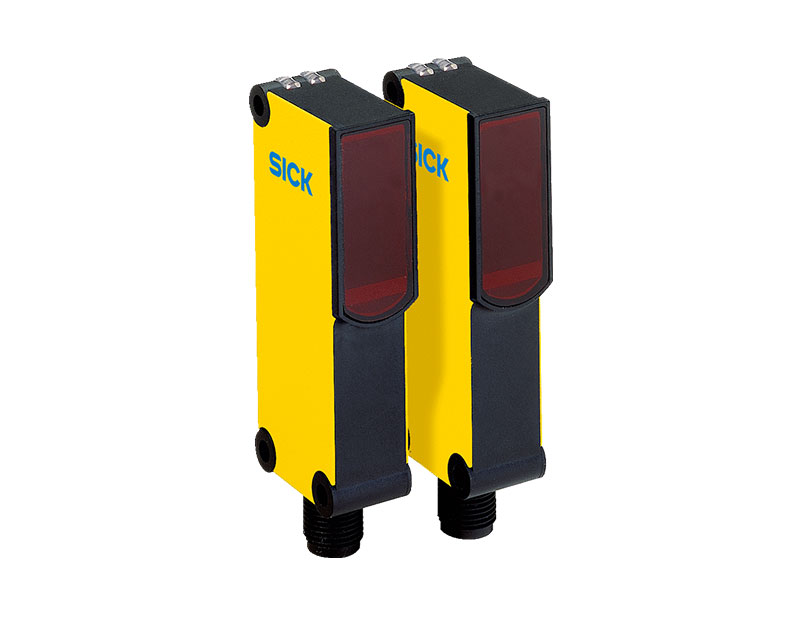 Single-beam photoelectric safety switches from Sick offer maximum safety performance. They comprise self-testing senders and receivers or testable senders and receivers combined with na evaluation unit. They have long ranges and come in a variety of types and sizes. They comply with Type 2 and/or Type 4 in acc. with EN 61496, and PL c and/ or PL e in acc. with EN ISO 13849. Applications include robots, processing machinery, machining centers, palletizers,

The L28 single-beam photoelectric safety switch consists of a sender and receiver. The test input of the sender allows direct functional tests. Performance level PL c in acc. with EN ISO 13849-1 or Type 2 in acc. with IEC 61496 can be achieved in conjunction with a safety controller.
Suitable safety controllers are, for example, Flexi Classic or Flexi Soft. Color LEDs provide local information about the operational status. The required range can be selected from various device versions. All versions are suitable for outdoor applications and enable even complex safeguarding tasks to be accomplished by using deflector mirrors.
Features
Type 2 (IEC 61496), SIL1 (IEC 61508), PL c (EN ISO 13849), only in conjunction with suitable testing device, e.g., Flexi Classic or Flexi Soft;
Compact size with ranges up to 18 m;
Plastic housing, ABS;
Enclosure rating IP67;
Temperature range from –40 °C to +60 °C.
Advantages
Easy integration due to small, compact designs with maximum sensing range;
Cost savings due to the facility for connecting directly to a safe control;
Flexible device integration makes it possible to set up individual access protection solutions;
Well-suited to extreme ambient conditions such as heat, cold, or moisture.
Industries
Logistics;
Food and beverage.
F.Fonseca is the representative of Sick in Portugal.