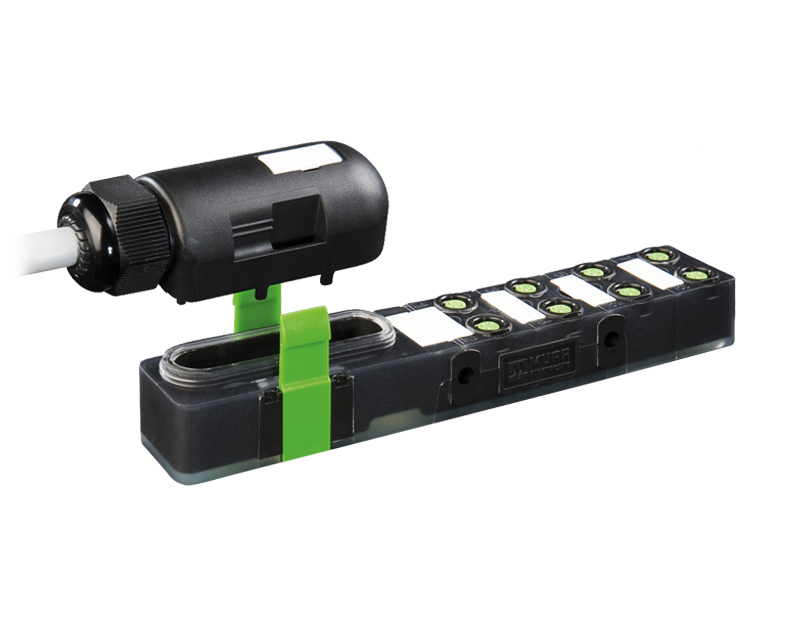 Exact8 - Saves Space, is Versatile and Variable!
Exact8 is the new generation of Murrelektronik's distribution boxes in slim 30 mm two-row design. Exact8 makes it possible to connect a maximum number of signals in a very small space. The normally closed contacts of the 4-pole distribution boxes are equipped with white LEDs, thus ensuring error-free indications.

Exact8 offers versatile mounting options, even for applications within a narrow space thanks to additional InLine mounting holes on the side.
The new unique cap design with pluggable spring clamp terminals vastly shortens assembly times and does not require tools. Exact8 is also available with a pluggable M12 connection and pre-wired cable.


The housing made of translucent polyurethane is an innovation in the field of M8 distribution boxes. They are extremely resistant to shock and vibration.
With more than 200 models available, Exact8 is perfect for any application. Exact8 Fits Your Application Exactly!
Features
Slim, 30 mm two row design;
Additional InLine mounting holes on side;
Clear and readable LED signals;
More than 200 versions available.
Advantages
Compact dimensions (30 mm/1.2" wide);
Diversity of models from 4- to 10-way, 3- and 4-pole;
High-quality, halogen-free high-flex PUR cable suited for C-tracks;
With pre-wired homerun cable or with pluggable connection cap;
Can be ordered as single components or as complete sets.
Industries
All industries.
Ref. A07009096
F.Fonseca is the representative of Murrelektronik in Portugal.