Process, Instrumentation & Environment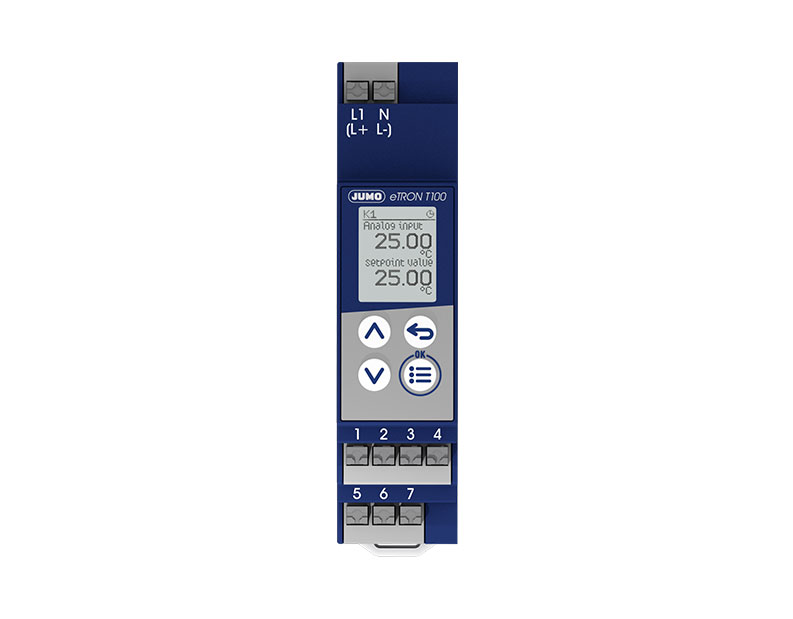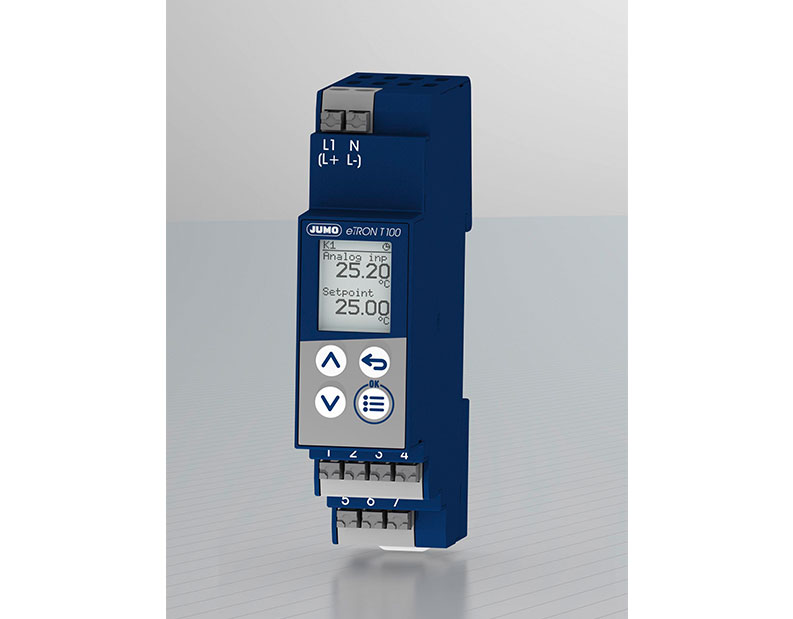 The electronic thermostat for DIN-rail mounting Jumo eTRON T100 was especially designed for temperature control and monitoring. In addition to the input signals for RTD temperature probes and thermocouples, a 0(4) to 20 mA measurement input is available for connecting other process variables.

The Jumo eTRON T100 sets itself apart with its compact size and large functional range, including an integrated timer, data logger, service and operating hours counter, PhotoMOS output for additional limit value signalling and digital input. Digital control signals can be used to create logical connections (AND, OR, XOR) which are processed internally.

The device has UL approval and also meets the railway industry standards for category 1B.

The Jumo eTRON T100 has a user-configurable dot-matrix display on which process values, parameters, switching statuses and the electric connection diagram can be viewed.
A clearly-structured operating concept supported by additional texts (4 languages are already available in the device) as well as practical and quick wiring via vibration-proof PUSH IN terminals enable a quick and easy start-up.
Its compact design type allows the Jumo eTRON T100 to be integrated with ease into control cabinets and sub-distribution units.
Features
5 different measuring input groups available;
Intuitive operation and configuration on the device or with the setup program through USB interface;
Data logger function;
Service and operating hours counter;
10A relay (changeover contact);
Connection via terminal blocks with push-in technology;
Timer function.
Advantages
Fast and easy configuration;
Connection diagram retrievable in the LCD display;
Installation in locations with vibration.
Industries
Railway industry;
Sampling line heating control;
Simple temperature control and other process variables.
F.Fonseca is the representative of Jumo in Portugal.