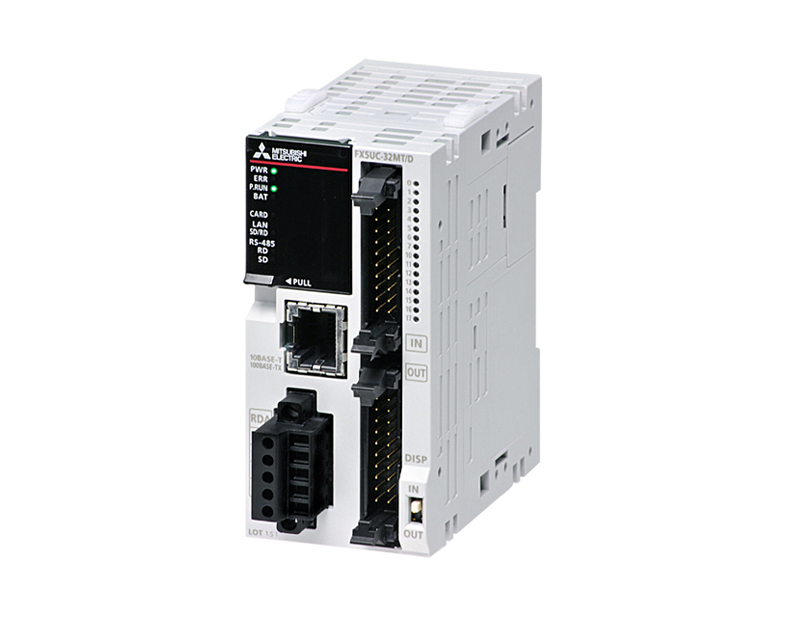 The new Mitsubishi Electric MELSEC FX5UC series is the next generation of the successful compact PLC that Mitsubishi Electric will be launching on the market. The successor to the advanced and well-established MELSEC FX3C range will once more drastically increase plant productivity and reduce total operating costs as well as energy consumption. The new PLC series offers significant advantages over its predecessor and is also fully compatible with the existing FX3 range.

MELSEC FX5UC series, the new "all-inclusive standard" in the field of modern extreme compact controllers. With a processor which is three times faster than its predecessor, the compact PLC will enhance system performance as well as productivity. With integrated functions such as high-speed counters and pulse outputs for cost-effective high-performance positioning tasks, as well as an Ethernet interface and analogue inputs and outputs (I/Os) for PID controllers, for example, the FX5UC series is not just ideally equipped for today's machine building needs but also suitable for universal use in all industrial sectors.

Mitsubishi Electric's extreme compact series FX5UC
differs from other ranges by its small size. Even with 96Ios this PLC has only a width of 82.3mm. This reduction of space is achieved thanks to high density connectors for inputs and outputs. For CPUs with 32IOs the width is 41.1mm and in the 64IOs the width is 62.2mm.
Features
Processing speed;
High speed inputs and outputs;
Analog inputs and outputs;
Ethernet;
Motion functions;
Compatibility;
Security functions.
Advantages
Reduced size: 32IOs - 41.1mm, 64IOs - 62.2mm, 96IOs - 82.3mm.
Industries
F.Fonseca is the representative of Mitsubishi Electric in Portugal.