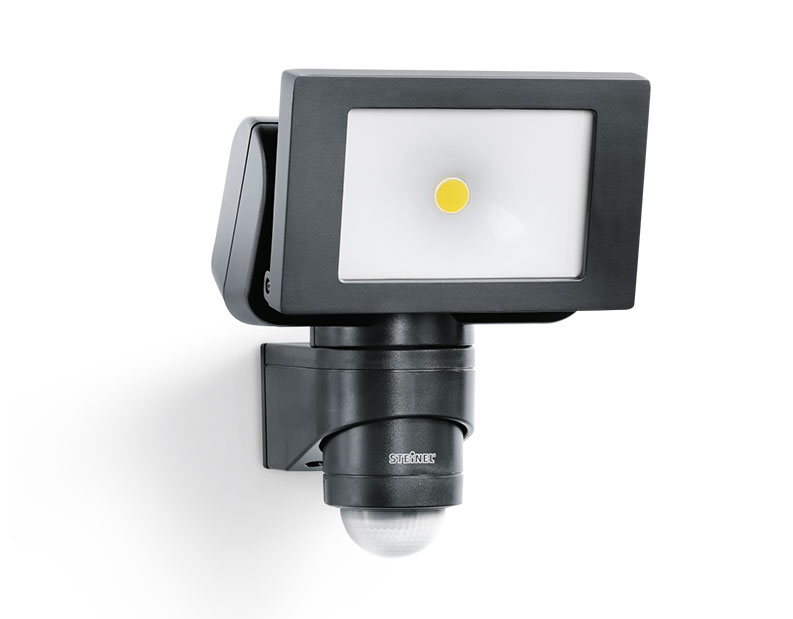 Powerful lighting big on style.
Extremely bright, robust and vigilant: the LS 150 LED sensor-switched floodlight. On-demand light for illuminating large areas around buildings. Infrared sensor with 240° angle of coverage and 12 m reach. Light output 1760 lumens, colour temperature 4000 K, power consumption 20.5 W. Robust aluminium floodlight head. Available in black or white.

The powerful LS 150 LED sensor-switched LED floodlight illuminates large areas around the building with a light output of 1760 lumens, making it extremely effective in keeping uninvited guests at bay. With its integrated infrared sensor, this intelligent floodlight reliably illuminates dark spaces with light in a pleasant colour temperature of 4000 K. Using only 20.5 W of power, it also shines in the consumption stakes. As an added bonus, its attractively understated design blends perfectly into any surroundings to provide a look of overall harmony. The robust LED floodlight with aluminium floodlight head is available in black or white.
Features
LS 150 LED, white
052553
---
LS 150 LED, black
052546
---
Dimensions (L x W x H)
215 x 155 x 170 mm
---
Power supply
220 - 240 V, 50 / 60 Hz
---
Output
20.5 W
---
Luminous flux
1760 lm
---
Colour temperature
4000 K
---
Colour rendering
Ra ≥ 80
---
LED life expectancy
50,000 h (L70B10 to LM80)
---
Sensor type
passive infrared
---
Angle of coverage
240°
---
Reach
max. radius 12 m
---
Twilight setting
2 - 1000 lx
---
Time setting
10 sec - 15 min
---
Floodlight adjustment range
80° horizontal, 150° tilting
---
IP rating/ Protection class
IP44/ II
---
Material
UV-resistant plastic and aluminium floodlight head
---
Optional accessories
corner wall mount
---
Advantages
Very high energy saving;
Convenience from automated light management;
Combination of sensor system and LED light;
Well-spread radiation of light;
Life of LED's: 50,000 h;
Fast 2-piece installation.
Applications
Office buildings;
Commercial spaces;
Hospitals;
Schools;
Private houses;
Hotels;
Industrial buildings.
F.Fonseca is the representative of Steinel in Portugal.