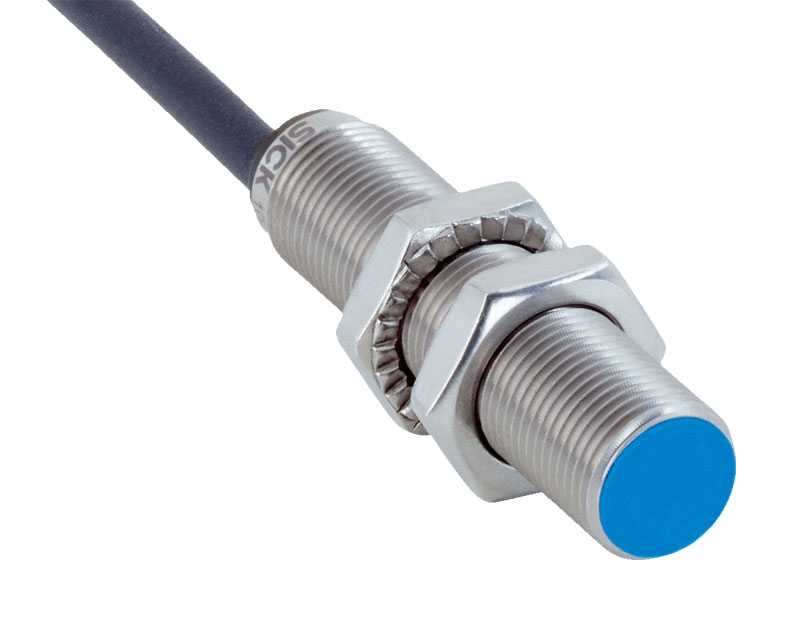 The rugged standard for use in harsh ambient conditions!
The inductive IMB proximity sensor from Sick is a byword for reliability in harsh working conditions, whether it is in contact with cooling lubricants or being used outdoors. With its extended sensing ranges, made highly precise thanks to the use of Sick ASIC technology, the IMB ensures reliable, stable processes.

What's more, its wide-ranging specification limits allow the IMB to be used in applications where specialist devices were once the only solution – a huge benefit when it comes to product selection and warehousing. The optical adjustment indicator and self-locking nuts save time during commissioning and help cut down on errors. Communication via IO-Link is also possible, creating more flexibility and adding more functions for automation applications. With an extensive standard product portfolio available, even special devices can be put into action quickly and easily.
Features
Types: M8 to M30;
Extended sensing ranges: 2 mm to 20 mm;
Electrical configuration: DC 3-/4-wire, DC 2-wire;
Enclosure rating: IP68, IP69K;
Temperature range: –40 °C to +100 °C;
Rugged stainless-steel housing, plastic sensing face;
Optical adjustment indicator, IO-Link-ready;
Resistant to oils and cooling lubricants, suitable for use outdoors.
Advantages
Straightforward product selection as fewer sensor variants are required – one sensor suits a whole range of applications;
Stable processes thanks to extended, highly precise sensing ranges enabled through the use of the latest Sick ASIC technology;
Reduced machine downtimes thanks to longer sensor service life, even in harsh working conditions;
Quick and easy installation thanks to optical adjustment indicator and self-locking nuts;
High degree of flexibility and communication options thanks to IO-Link;
Easy to implement customer-specific variants within the standard product portfolio.
Industries
Machine tool;
Container spreaders;
Wind power plants;
Car wash facilities;
Doors and gates outdoors;
Steel mills.
F.Fonseca is the representative of Sick in Portugal.