Login
MyFFonseca
If you do not have an account MyFFonseca, please register and get access to exclusive content to registered users!
Create registry
Login
MyFFonseca
If you do not have an account MyFFonseca, please register and get access to exclusive content to registered users!
Create registry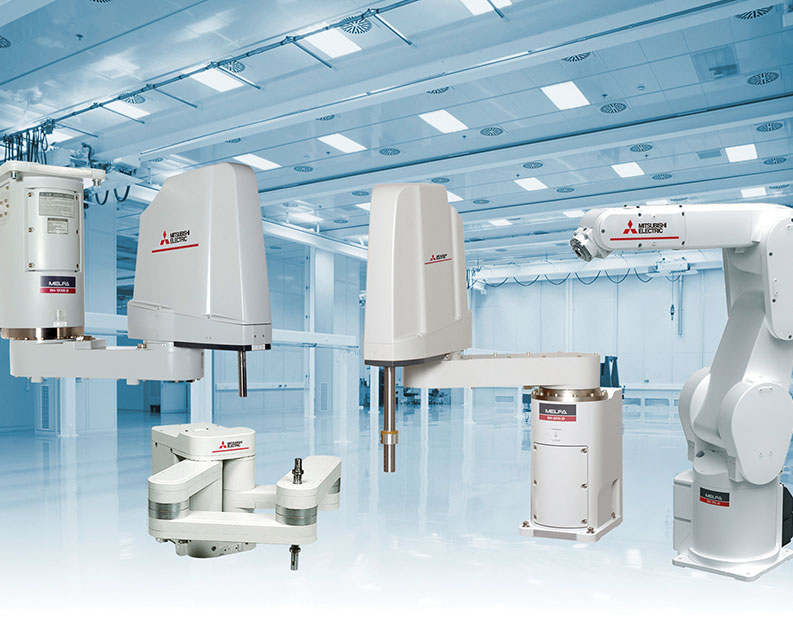 Industrial Automation
MELFA Robots RV and RH – Mitsubishi Electric
Get a grip on consistent quality.
Mitsubishi's range of advanced MELFA robots offer speed, accuracy and compact design as well as long life. MELFA Robots deliver class leading benefits for small-medium robot applications.

Large range of robot models makes selection easy
Mitsubishi Electric produces a comprehensive range of robot models to cater to the full spectrum of modern needs. All Mitsubishi Electric robots are powerful, fast and compact – that goes almost without saying.
The product range includes the almost universal articulated-arm robots with 6 degrees of freedom and payloads of 2 kg to 70 kg and SCARA robots with 4 degrees of freedom and payloads of 3 kg to 20 kg for assembly and palletising tasks.
Two special models are the unique high-precision robots with their parallel arm structure for very fast micro handling tasks with payloads of 1 kg to 5 kg as well as the flexible high-speed SCARA robot for ceiling mounting.
Next-generation, high performance robots
With consumer needs rapidly evolving towards increased diversification and reduced time to market, today's manufacturers face a time of considerable change. It is no longer enough for industrial robots to simply perform a single task. Industry now demands robots with the capacity and flexibility to readily take on more sophisticated tasks. The MELFA FR-Series provides new, more intelligent solutions that underpin "Next-Generation Manufacturing", offering a simpler approach to advanced and flexible production.
"Next-Generation Intelligent Functions" make it simple to carry out work that has always defied automation. MELFA SafePlus features "safe, collaborative work applications" and allows robots and people to work together with high levels of safety while still providing the high-speed and high-performance. "FA-IT Integration Functions" with the full line of Mitsubishi Electric automation products provide a level of performance, functionality and ease of use and thus support next-generation manufacturing.
Features
| | | |
| --- | --- | --- |
| Robots | Precision Robots RP Series | SCARA Robots RH Series |
| Degree of Freedom (DOF) | 4 | 4 |
| Max. Payload (Kg) | 1...5 | 3...20 |
| | Repeatability x/y ...± 0.005 mm | Gripper flange reach ...1000 mm |
| | |
| --- | --- |
| Robots | Articulated Arm RV Series |
| Degree of Freedom (DOF) | 6 |
| Max. Payload (Kg) | 2..70 |
| | Gripper flange reach ....2050 mm |
Advantages
Increase your productivity: Cycle times of up to 0.32 seconds with accuracy of up to ± 0.02 mm;
Flexible workspace: Range 504 to 2055 mm with spherical workspace - also behind the robot;
Your protection for harsh environments: IP67 as standard;
Hygiene: Internal cable routing of all cables and pneumatic lines, clean-room model (ISO-level III) available;
Connectors: Pneumatic and electrical grippers, Ethernet, USB, camera interface and two encoder connections and up to 8 additional external axles as standard, optional I/O and field bus expansion cards. Direct Connection via Ethernet to GOT HMI and teaching box;
Configuration: As a complete system with robot and controller or PLC module for full PLC-functionality of the robot on the iQ Platform;
Teaching box: Full graphic R56TB with touch screen or R32TB.
Industries
All in which more production speed with less errors is needed, where human workers are hard to find and retain, where the parts to handle are heavy and/or dangerous.
F.Fonseca is the representative of Mitsubishi Electric in Portugal.