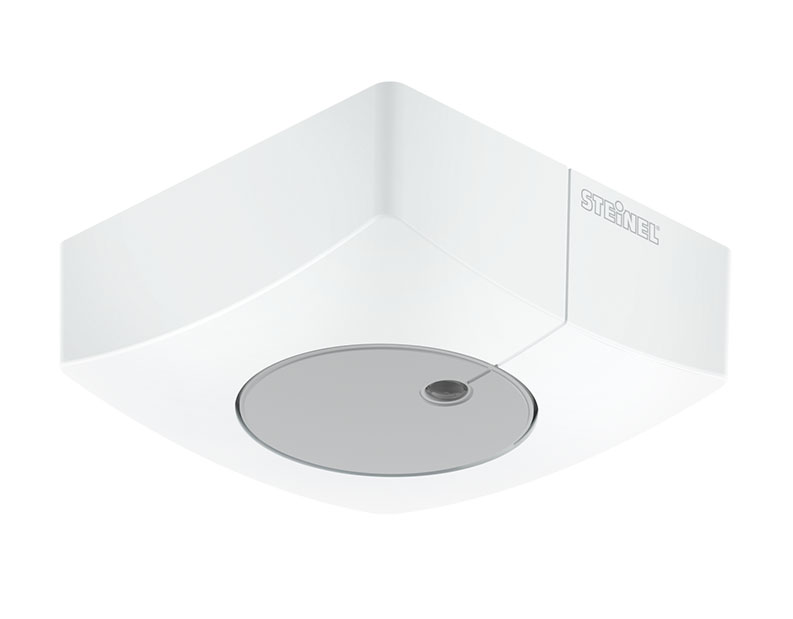 The duality of light measurement.
Light measurement in perfection. The Light Sensor Dual photo-cell controller with KNX interface measures directed and diffuse light, watches over areas below the sensor and measures the room brightness. Combining the measurement results reduces error influences. Available either in round or square surface-mounted and concealed version.

No matter whether focused or diffuse measurements are needed - both work with the Light Sensor Dual! The challenge must not be underestimated. To obtain usable information on the lighting situation in a room, it is not sufficient simply to determine general brightness. It is important to use a combination of measuring the light level at the desk, for example, and determining diffuse room brightness. This way, errors can be ruled out for better lighting control. And the STEINEL Light Sensor Dual is simply perfect for this.
Features

Surface-mounted installation
---
Light sensor dual KNX, square
011727
---
Light sensor dual KNX, round
033644
---
Light sensor dual KNX, round
009762
---
Concealed installation
---
Light sensor dual KNX, square
033637​​​​​​​
---
Light sensor dual KNX, round
033651​​​​​​​
---
Sensor type
photo-cell controller​​​​​​​
---
Dimensions (H x W x D)
42 x 95 x 95 mm​​​​​​​
---
Installation
indoors/ ceiling​​​​​​​
---
Recommended installation height
4.00 m​​​​​​​
---
Angle of coverage
directed and diffuse​​​​​​​
---
Twilight setting
2 – 1000 lx​​​​​​​
---
IP rating
IP54
---
Advantages
5 years warranty;
Standard KNX protocol via ETS software;
Programming also via remote control or via Smart Remote.
Applications
Corridors and passageways;
Entrance halls;
Side and equipment rooms;
Multi-storey car parks;
High-bay warehouse spaces;
Bathrooms as washrooms;
Stairways.
F.Fonseca is the representative of Steinel in Portugal.