Login
MyFFonseca
If you do not have an account MyFFonseca, please register and get access to exclusive content to registered users!
Create registry
Login
MyFFonseca
If you do not have an account MyFFonseca, please register and get access to exclusive content to registered users!
Create registry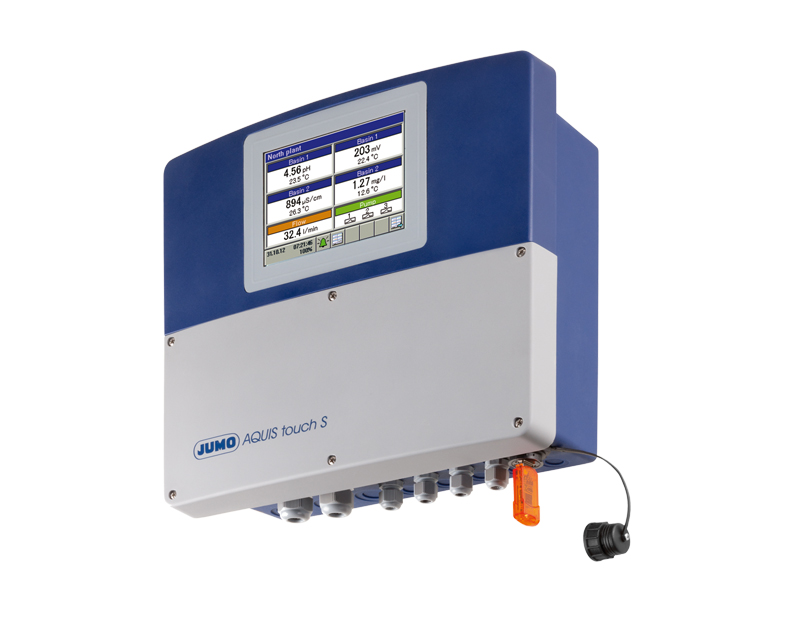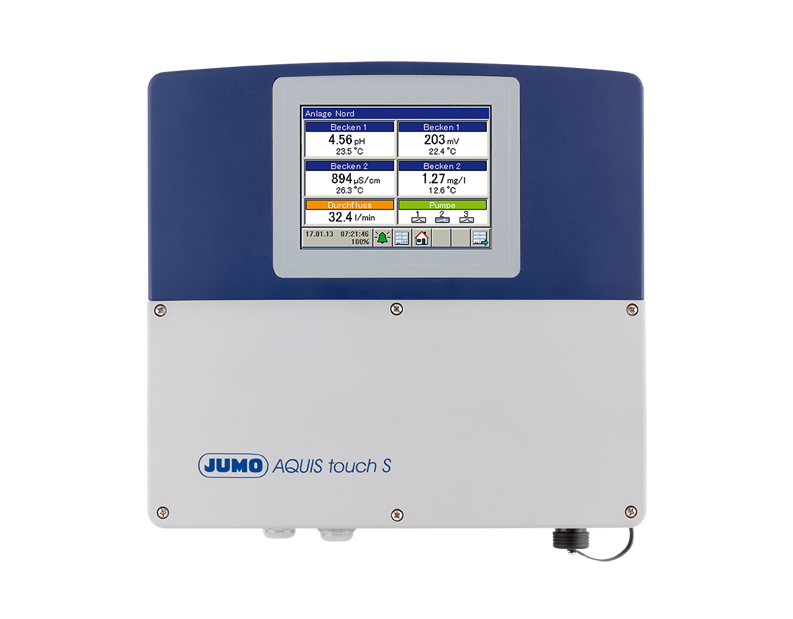 Process, Instrumentation & Environment
Multichannel measuring device for liquid analysis - Aquis Touch S – Jumo
The Jumo AQUIS touch S and P multichannel devices provide a central platform for displaying and further processing a wide variety of measurands in the field of liquid analysis. The devices have a modular design, feature numerous interfaces, and can therefore be adapted entirely according to the individual requirements of each operation. In addition to recording measured values, up to four independent control loops can be implemented. Important process values can also be saved in a tamper-proof manner using an integrated paperless recorder.
Thanks to user-configurable screen masks and a clearly arranged menu navigation, Jumo AQUIS touch S and P are incredibly easy to operate via their touchscreens, despite the wide range of functions.
Measurement
Regardless of whether it is the pH-value or redox voltage, electrolytic conductivity, high-purity water resistance, temperature, disinfection-related measurands (such as free chlorine, total chlorine, chlorine dioxide, ozone, hydrogen peroxide, and peracetic acid), or the flow volume that is to be displayed and further processed, the Jumo AQUIS touch S provides a central platform to accomplish these things. Pulse rate inputs (counters) are available for flow measurements. Universal inputs can be used to measure almost any analog measurands using standard signals (4 to 20 mA or 0 to 10 V). In total, the device can measure and manage up to 19 parameters simultaneously.
Control
Other than numerous simple alarm/limit-value/time-controlled switching functions, up to four high-quality control loops can be simultaneously defined in the Jumo AQUIS touch S.
Here, tried-and-tested Jumo control algorithms are used for P, PI, PD, and PID control.
Display
A 5.5" color screen with touch function is responsible for the display of all parameters as well as for the operation and setup of the device. The plain-text operation philosophy almost makes use of the manual unnecessary. The operating language can be selected from among 15 languages that are already included in the device at the point of purchase. The language library can be expanded up to 30 languages per PC setup program. It is also possible to display languages with Chinese or Cyrillic characters. As a result, the device is predestined for global use.
Recording
A paperless recorder is integrated for data recording. Up to eight analog measurands and six binary signals are registered. Their chronological sequence is displayed on the screen. Data storage is tamper-proof and enables official record-keeping requirements. The data can be read per Jumo-PCC software or USB memory stick and be evaluated with the PC evaluation software Jumo PCA3000.
Features
Up to four analysis inputs in any combination for direct connection of sensors for liquid analysis;
Up to 15 additional measuring signals can be connected;
Two pulse frequency inputs for flow measurement (up to 300 Hz or 10 kHz);
Up to 17 switching outputs that are configurable as controller outputs, switch outputs, and alarm outputs;
Interfaces: USB host, USB device, Modbus, PROFIBUS-DP, and Ethernet;
Ethernet function: web server, alarm alerts by email, setup per PC, readout of recorded measurement data;
Math and logic functions;
Integrated timer, wash timer, and calibration timer;
Service counter and operating hours counter;
Process-data recording with tamper-proof storage;
Vibrant TFT color graphics screen with 5.5" diagonal screen sizes, 320 × 240 pixels, and 256 colors;
Configurable user rights;
User-configurable screen masks;
PC setup program;
Conductivity measurement for natural waters and TDS-measurement;
Switchable conductivity measuring ranges for CIP/SIP-plants in the beverage industry;
Compliance with requirements of the pharmaceutical industry according to USP <645>;
Wall-mounted case (protection type IP67) with spacious connection área.
Advantages
Measure, display, control and record - Four operations in one solution;
Surface mounted case or built-in panel;
Customizable process screen for plant visualization;
Intuitive operation via touchscreen.
Industries
Municipal and industrial water treatment in wastewater treatment plants;
Process systems;
Drinking and bathing water monitoring;
Pharmaceutical water;
Food and beverage production (CIP/SIP plants);
Gas scrubbers / air washers;
Cooling tower control;
Ion exchangers;
RO-units (reverse osmosis);
Power stations and energy plants;
Fish breeding;
Desalination of seawater.
F.Fonseca is the representative of Jumo in Portugal.