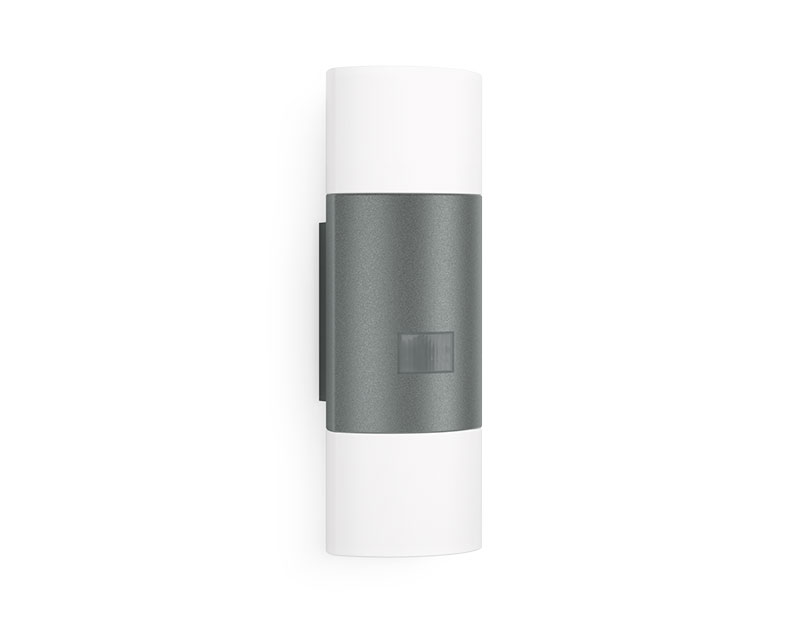 Creates the right ambience. Elegant and intelligent.
Elegant and intelligent. LED uplighter/downlighter L 910 LED, ideal for building entrances and fronts of buildings. 11W Steinel LED lighting system delivering 755 lm of light, 30-year lifespan (average of 4.5 h/day), 180° infrared sensor with a reach of 12 m, simultaneous operation of interconnected lights, optional basic light level, optional 4-hour manual override.

Same technology, even more effective: if you are looking for somewhat more ambient light on the outside of your home, we can offer you an uplight/downlight solution with the L 910 LED that's just as stylish as it is efficient. As with its little brother, no-maintenance and low-consumption LEDs give you aesthetically pleasing ambient lighting here too whenever you wish thanks to the reliable IR sensor. And if you interconnect them, they will also switch on and off simultaneously. An effect not only appreciated by admirers of aesthetic style.
Features
L 910 LED silver
576219
---
L 910 LED anthracite
576202
---
L 910 LED white
006570
---
Dimensions (H x W x D)
235 x 80 x 85 mm
---
Power supply
220 – 240 V, 50 / 60 Hz
---
Sensor type
passive infrared
---
Output (lights)
11 W
---
Luminous flux
755 lm
---
Colour temperature
3000 K / SDCM 3
---
Colour rendering
Ra ≥ 80
---
LED life expectancy
50,000 h
---
Angle of coverage
180°
---
Reach
5 m or 12 m, selectable
---
Twilight setting
2 or 20 lx
---
Time setting
2 min or 15 min
---
Basic light level
effect lighting on the wall
---
Soft light start
Yes
---
Manual override
selectable, 4 h
---
IP rating/ Protection class
IP44/ II
---
Material
aluminium, UV-resistant plastic
---
Advantages
Safety, convenience and energy saving because light comes 'ON' automatically;
Steinel multi-lens technology for all-round detection without blind spots;
High number of switching zones for reliable coverage;
Fast installation;
Attractive design.
Applications
Building entrances;
Fronts of buildings.
F.Fonseca is the representative of Steinel in Portugal.