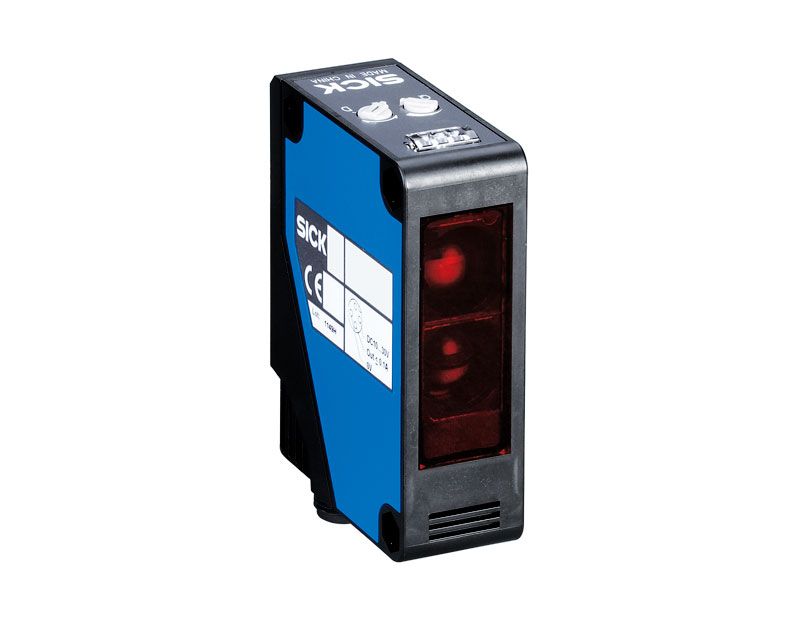 Great performance, simple operation!
The powerful photoelectric proximity sensor W280L-2 Long Range from SICK is characterized by its maximum sensing distance of up to 4 m combined with extremely simple operation. The sensing distance can be further extended to 18 m with the WLT280L-2 Long Range reflector version.

The option of 2 independent switching outputs allows feedback of low and high detection points. Setup is easy through an intuitive sensing range adjustment potentiometer and indicator LED for each switching output. A visible red class 1 laser light ensures that the alignment is quick and precise. An integrated protective system in the
photoelectric proximity sensor W280L-2
Long Range
prevents adverse effects caused by reflections in the background, for example, resulting from reflective metal surfaces, windows and warning vests. Additionally, the photoelectric proximity sensor W280L-2 Long Range ignores cross-talk from an adjacent sensor.
Features
WTT280L-2 Long Range: sensing distance up to 4 m;
WLT280L-2 Long Range on reflector: sensing distance up to 18 m;
Complete background suppression: very small black/white shift, insensitive against reflections from the background (e.g. shiny metal, window, safety vest);
Visible red class 1 laser light;
Version 1: with 1 x switching output and light/dark switch, version 2: with 2 x switching outputs and light/dark switch;
Disable laser by wire;
Reliable detection also in very fast production processes thanks to the switching frequency of 1000 Hz.
Advantages
Reliable target detection with difficult target colors, angles and color transitions (black/white shift);
One sensor with two outputs and two status LEDs improves application flexibility and reduces the number of sensors needed;
Quick and easy commissioning with sensing distance adjustment potentiometers and status LED – one for each output;
Quick and easy alignment with a red class 1 laser light;
Rotatable connector and light/dark switch for mounting and installation flexibility.
Industries
Any industry, regardless of the sector of activity, where it is necessary to measure at large distances.
F.Fonseca is the representative of SICK in Portugal.