Login
MyFFonseca
If you do not have an account MyFFonseca, please register and get access to exclusive content to registered users!
Create registry
Login
MyFFonseca
If you do not have an account MyFFonseca, please register and get access to exclusive content to registered users!
Create registry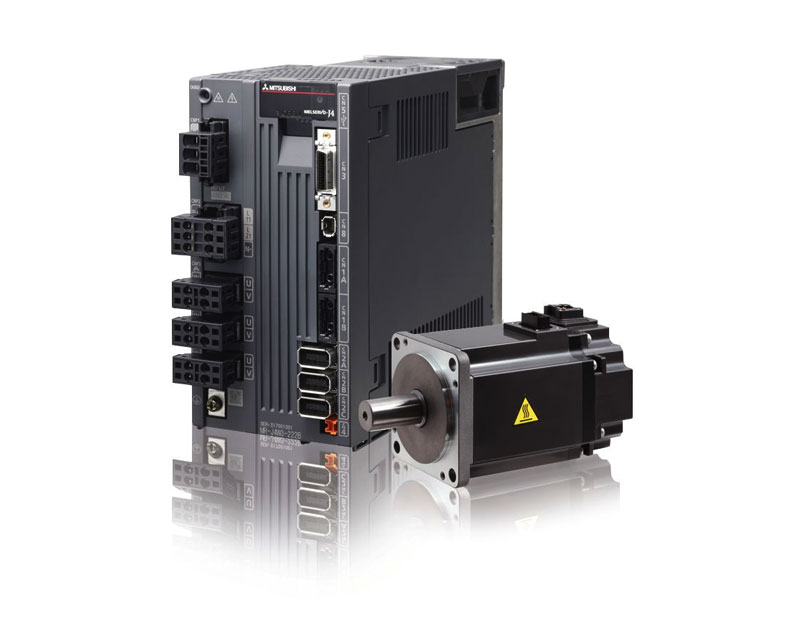 Industrial Automation
Servo Drive MR-J4 - Mitsubishi Electric
The MELSERVO MR-J4 series of servo amplifiers and the associated positioning units, simple motion modules and high-end motion control systems from Mitsubishi Electric enable machine builders and end customers to increase production safety and improve productivity.

The MR-J4 amplifier series has been developed for the automation requirements of tomorrow. Mitsubishi Electric has incorporated numerous innovative and user-friendly functions to minimise the time-consuming and elaborate matching of mechanical and electronic systems.

The absolute encoder which is fitted as standard has a resolution of 22 bits. This corresponds to more than 4 million pulses/revolution. The result is excellent true-running characteristics and a maximum positioning accuracy and processing speed which more than satisfy the performance requirements of modern high-end machines.
Highlights
Single, dual and triple-axis amplifiers for improved economy, energy efficiency and cabinet space;
Operation of rotary motors, linear motors and direct drive motors with a single unit
Safety at all times – STO (Safe Torque Off) and SS1 (Safe Stop 1) in accordance with EN 61800-5-2. SS2/SOS/SLS/SBC and SSM options available;
MR-J4-TM with Multi Network interface (EtherCAT, Profinet, Ethernet/IP) for open connectivity with third party motion systems.
Flexible motor selection
Another highlight of functionality and flexibility is the possibility of connecting different motors to the MR-J4 amplifier. The servo amplifier can be conveniently and easily used with rotary motors, linear motors and also direct drive motors.
User-friendly software
The MR Configurator2 programming tool allows convenient commissioning and diagnostics. Calibration, monitoring, diagnostics, reading and writing of parameters and test operation can be carried out easily on a standard PC. MR Configurator2 ensures a stable machine system, optimum control and short set-up times.
Features
Wide range of servo motors;
Security entries as standard;
Speeds up to 6000rpm with high torques;
22bit encoder (4,194,304 pulses per revolution);
Motors with IP65 and IP67 (400V).
Advantages
Variety of drives and flexibility of choice of motors;
High speed movements and network synchronization;
Versatile and user-friendly software.
Applications
Axes synchronization;
Manipulation;
Positioning.
Industries
Food and beverage;
Metal forming;
Packing;
Stone cutting.
F.Fonseca is the representative of Mitsubishi Electric in Portugal.