Login
MyFFonseca
If you do not have an account MyFFonseca, please register and get access to exclusive content to registered users!
Create registry
Login
MyFFonseca
If you do not have an account MyFFonseca, please register and get access to exclusive content to registered users!
Create registry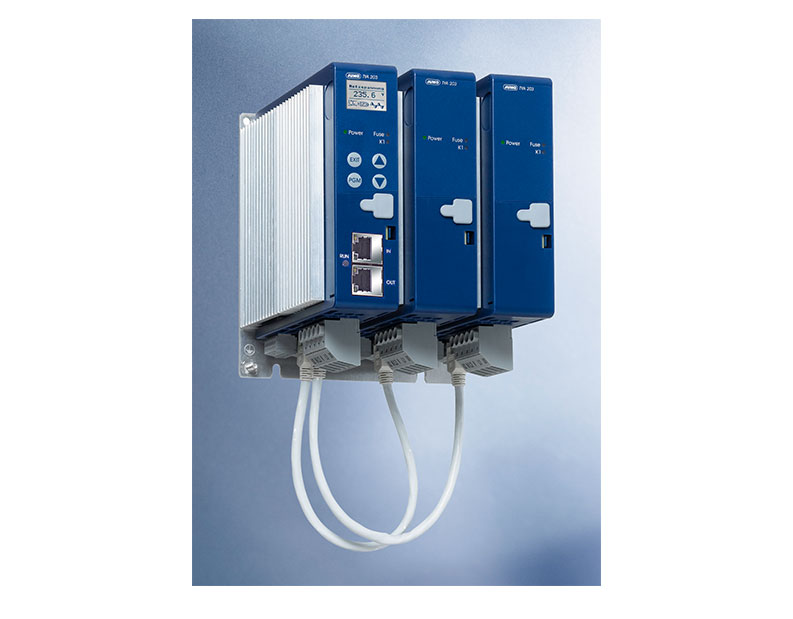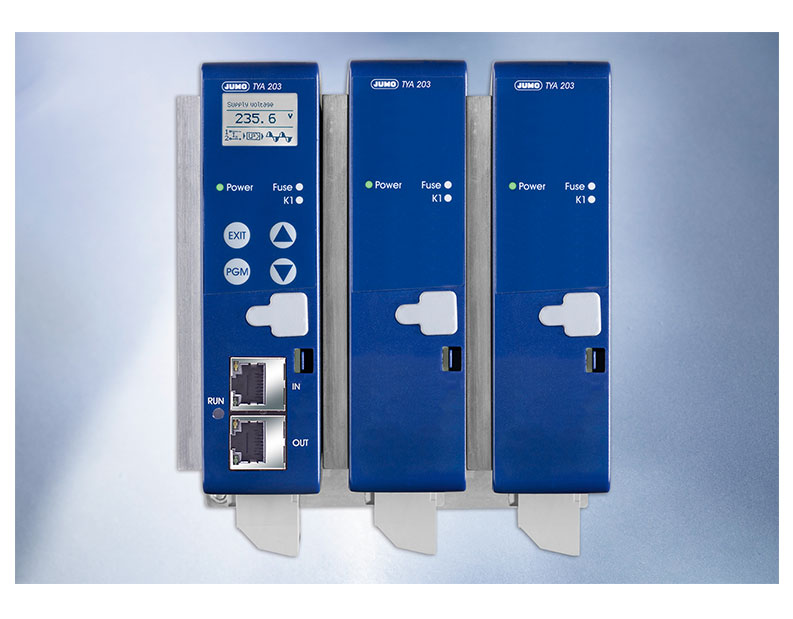 Industrial Automation
Three-Phase thyristor power controller TYA 203 - Jumo
The Jumo TYA 203 is the result of consistent development of Jumo power controller technology and switches resistive and resistive/inductive loads (transformer) via a three-wire circuit.

The TYA 203 enables the wiring of the load in a star connection (with and without N conductor) or a delta connection. An open delta connection (six-conductor connection) can also be implemented. The microprocessor controlled power controller displays all parameters in an LCD display with background lighting and it can be operated using the 4 keys at the front.

Thyristor power controllers are used where larger resistive and ohmic-inductive loads have to be switched (e.g. in industrial furnace construction and plastics processing). The thyristor power controller with a load current of 20 A can either be clipped to a 35 mm mounting rail or fitted to the wall on a mounting plate. Devices with a load current greater than 20 A can only be mounted on the wall.

The
TYA 203
works in phase angle control mode or in burst firing mode. In burst firing mode, the phase angle of the first half-wave can be cut so that transformer loads can also be operated.
All thyristor power controllers are fitted with a semiconductor fuse. Available subordinate control loops are U, U2, I, I2 or P control. When using the subordinate control loop, power voltage fluctuations during control processes have no influence on the line segment to be controlled. The option of specifying a base load is available. To avoid high inrush current, a soft start can be set. The thyristor power controllers meet the operating conditions of DIN EN 50178. The device has to be grounded in accordance with the regulations of the responsible energy supply company.
Features
LCD display with info line;
Simple configuration of the device through plain text display;
Setup program for configuration via USB interface;
Transmission of the setup data is possible even without voltage supply to the device (USB port supplies power);
Close mounting possible;
Network load optimization through dual energy management;
RS422/485 interface or PROFIBUS-DP for connecting to process control systems;
Current limiting;
Soft start function;
Phase angle mode;
Burst firing mode;
Resistance monitoring and limitation for MoSi2 heating elements;
All versions feature protection type IP20;
Load monitoring for the detection of partial load failure or load short-circuit "Teach-In";
Integrated diagnostic systems;
Energy meter;
UL 508 approval.
Advantages
Quick startup times;
Reduction in operating costs;
A power controller for all load types;
Precise device diagnosis;
Overview of energy consumption.
Industries
Industrial furnace construction;
Drying facilities;
Glass industry;
Plastics processing.
F.Fonseca is the representative of Jumo in Portugal.