Process, Instrumentation & Environment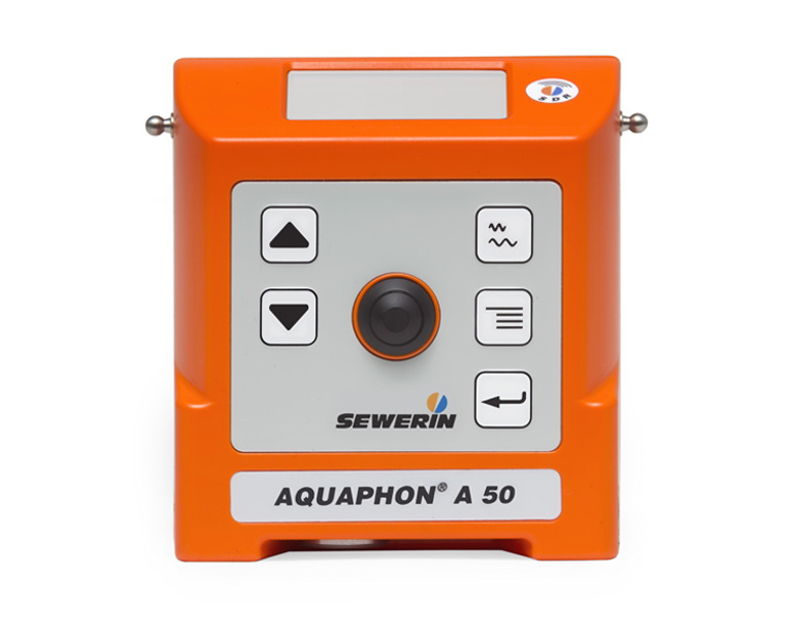 The reasonable entry-level model for professional acoustic water leak detection: compact – on-hand – efficient.

The AQUAPHON® system provides professional, electro-acoustic water leak detection. The A 50 receiver and various microphones make the prelocation and pinpointing of leaks possible. When both microphone and headphones are attached, the device boasts impressively high reproduction quality. The display helps by visualizing the noises to provide reliable, differentiated evaluations.
With a fully charged battery the
A 50
receiver is ready for use for an entire work week. Light, handy, small – the receiver is cleverly compact and easy to carry. When the
A 50
with SDR radio module (
S
ewerin
D
igital
R
adio) is used and the F8 wireless headphones are connected, there are no cables to affect the sound quality or restrict your movement. Thanks to adjustable filters, frequency ranges can be individually adjusted to your hearing and the impact of interference noise can be minimized. The
AQUAPHON® system
featuring the
A 50 receiver
is a reasonable entry-level system for professional electro-acoustic water leak detection.
Features
Compact and lightweight;
Adjustable filters;
Illuminated display with wide viewing angle and automatic rotation (180 ° rotation);
Available in two versions: Wired and wireless (SDR module);
Display of noises on the screen;
High autonomy.
Advantages
Especially efficient solution for electro-acoustic water leak detection;
Long availability – even without recharging – thanks to powerful battery technology;
Extremely compact, lightweight, handy housing with belt clip – for convenient, effortless carrying and maximum freedom of movement; ready for use at all times;
Adjustable filters: frequency ranges can be individually adjusted to hearing to reduce interference noise;
Illuminated display with optimized tilt angle and automatically changing display (180° rotation) making it easy to read the receiver regardless of position;
Two product versions available: with or without SDR radio module;
Added supporting visualization of noises on the display for reliable evaluation of leak noises
Industries
Leak detection applications in consumer water distribution networks and home networks.
F.Fonseca is distributor of Sewerin in Portugal.