Login
MyFFonseca
If you do not have an account MyFFonseca, please register and get access to exclusive content to registered users!
Create registry
Login
MyFFonseca
If you do not have an account MyFFonseca, please register and get access to exclusive content to registered users!
Create registry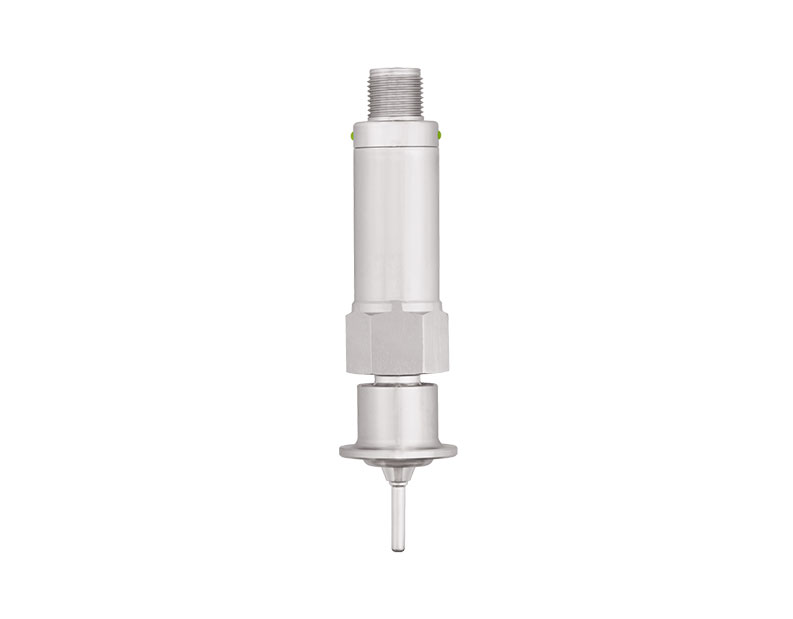 Process, Instrumentation & Environment
Temperature sensor with IO-Link dTRANS T1000 - Jumo
The temperature sensor is used for temperature measurement and monitoring. The effect of the temperature on a resistance RTD temperature probe generates a signal, which is amplified, digitalized and processed. The temperature sensor is equipped with an IO-Link interface as per specification 1.1. IO-Link supports bidirectional communication and is used to exchange the process data, parameters, diagnostic information and status messages.
The two green LEDs are permanently lit as soon as power is supplied to the device. Once an IO-Link connection is established, the LEDs flash. The switching behavior and the switching thresholds of the switching outputs (max. 2 pcs.; p or n switching) can be individually configured, as can many other parameters. Any IO-Link master can be used for the configuration. The temperature sensor is thus suitable for use in plant and mechanical engineering in connections to automation systems. Many process connections are available to the user.
Features
Small, compact, robust;
Stainless steel, fully welded;
Various process connections;
Hygienic connections;
Simple start-up;
Easy sensor replacement;
Proven accuracy;
Connection via IO-Link master;
LED status display;
Also available as a pressure sensor with IO-Link.
Advantages
IO-Link
Multi-vendor point-to-point connection;
Open standard with maximum transparency to the field level (IEC 61131-9);
Inexpensive, pre-fabricated connecting cable (no wiring errors);
Simple and uniform wiring and startup thanks to standardized interface.
Industry 4.0: pervasive communication from the control to the sensors
Retrieval of process data and diagnostic information;
Dynamic parameter changes.
More safety during sensor replacement
Automatic parameterization possible;
Replacement with sensors of same type, but with different properties, can be detected;
Optimization of the production process through communication down to the lowest field level;
Reduction of mounting and startup times;
Reduction of maintenance and service costs with simultaneous increase in plant availability.
Industries
General mechanical and apparatus engineering;
Machines for the food and beverage industry;
Process automation.
F.Fonseca is the representative of Jumo in Portugal.