Login
MyFFonseca
If you do not have an account MyFFonseca, please register and get access to exclusive content to registered users!
Create registry
Login
MyFFonseca
If you do not have an account MyFFonseca, please register and get access to exclusive content to registered users!
Create registry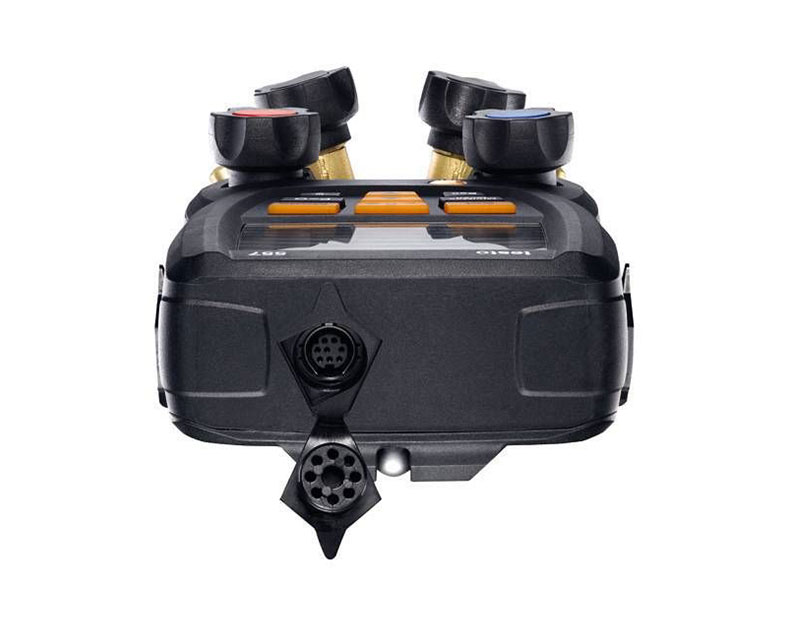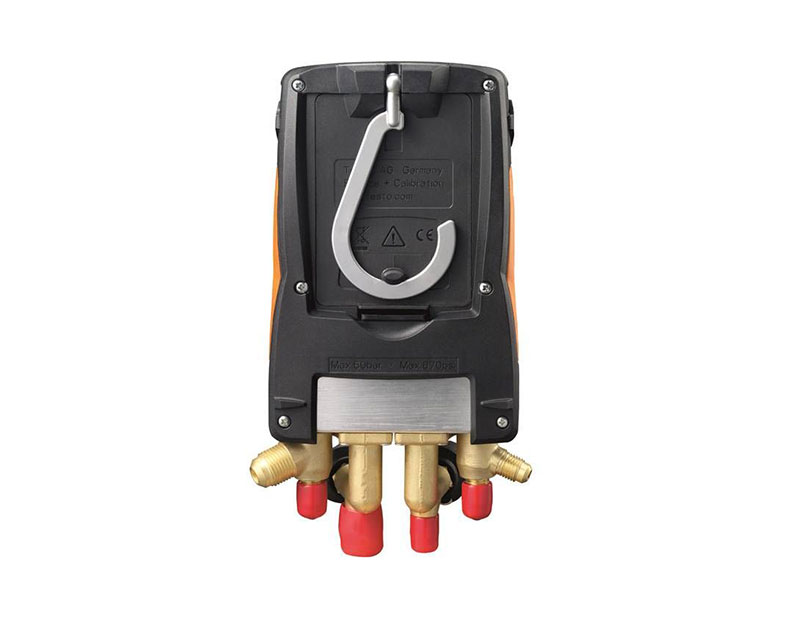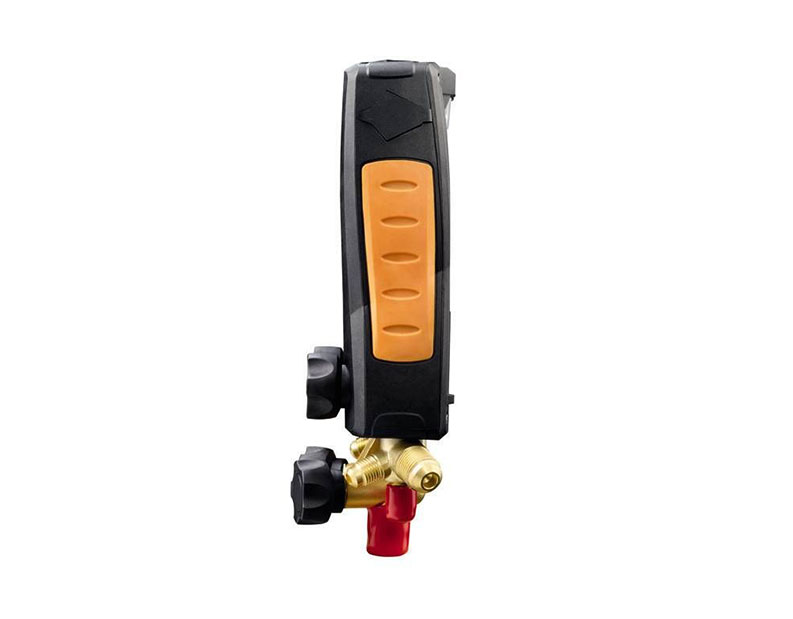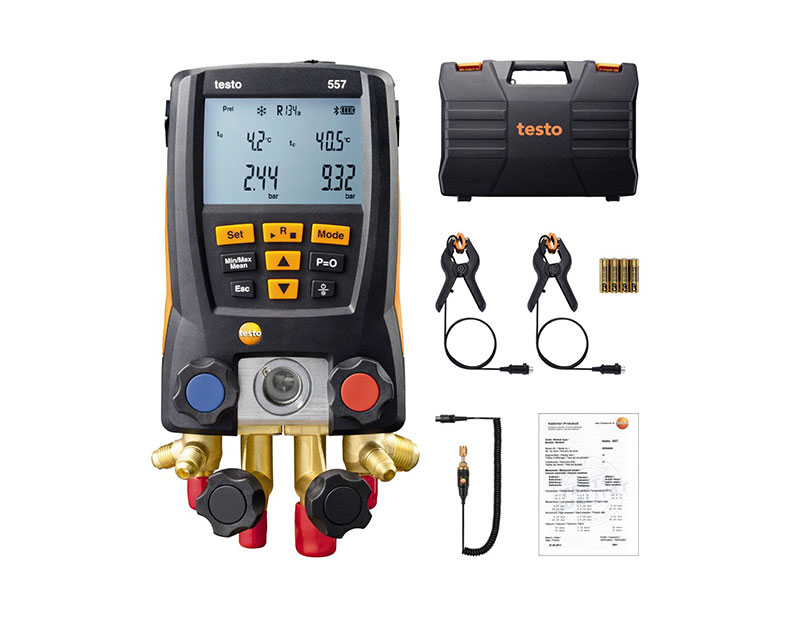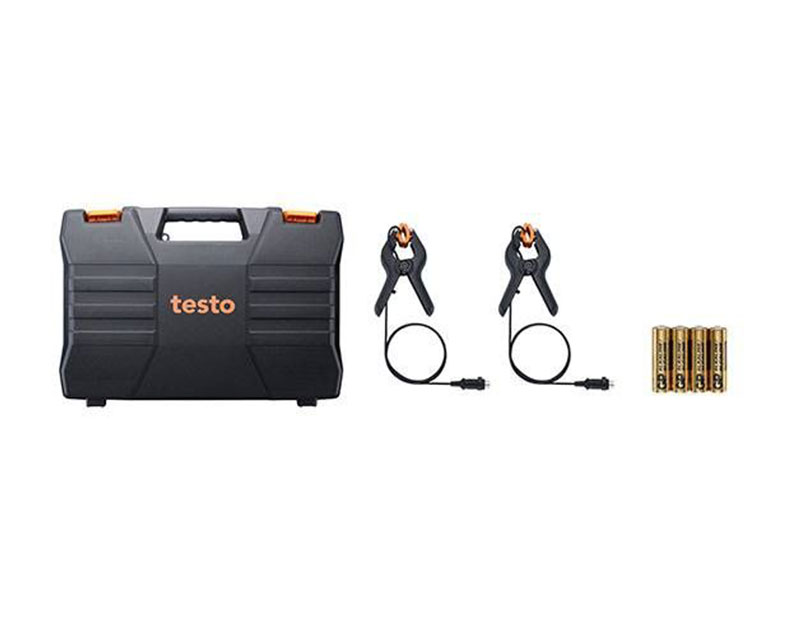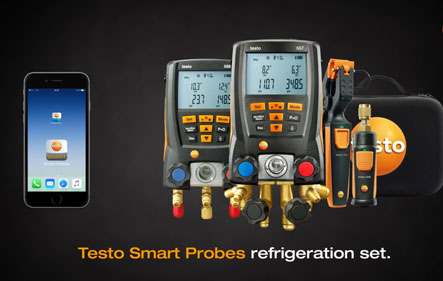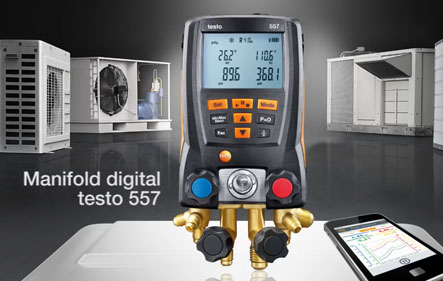 Process, Instrumentation & Environment
Digital refrigeration analyzer - testo 557
With App and Bluetooth.
In a single testo 557 we find a series of essential functions for working in cooling systems and heat pumps. Among others, testo 557 allows the calculation of overheating and undercooling, the measurement of vacuum, the tightness test with temperature compensation. In addition, with the practical smartphone/tablet application, you can supervise the auxiliary assembly unit and store the measurement results or send them by email.


Are you primarily entrusted with the commissioning or maintenance of refrigeration systems or heat pumps? If so, the testo 557 is the ideal digital manifold for you: like the testo 550, this digital manifold replaces multiple tools in the refrigeration industry and can be connected to a practical app. As well as the features of the testo 550 manifold, the testo 557 offers a high-precision external Pirani gauge for vacuum measurement: this enables the quick, safe evacuation of refrigeration systems and heat pumps.
The digital manifold in detail:
Quick, precise measurement of high and low pressure: two temperature-compensated pressure sensors make this possible and automatically calculate the theoretical evaporating and condensing temperature;
Simultaneous calculation of superheating and subcooling: do away with manual calculations, which are time-consuming and during which errors often creep in;
Precise external Pirani gauge for vacuum measurement: you get a high-precision Pirani gauge with the digital manifold, enabling you to carry out accurate vacuum measurement and making it easier to evacuate refrigeration systems and heat pumps;
Two clamp temperature probes included in the delivery: clamp them to the cables to reliably measure the surface temperature;
No need to switch over refrigerant hoses: thanks to automatic heat pump mode;
Can be used for 60 current refrigerants: 60 refrigerants are stored in the manifold, which you can update if necessary via the smartphone/tablet app and adapt to suit your requirements;
Remote monitoring of the measurement: you don't need to stay right next to the manifold during the measurement, you can monitor the measurement from a distance via your smartphone/tablet; coverage of up to 20 m where there are no obstructions (at the very least);
Measurement data display on your smartphone/tablet: your smartphone/tablet displays the readings for you while the measurement is ongoing – really helpful when you are making system settings at the same time;
Practical documentation functions: save your measurement results (in pdf or csv format) and send them directly by e-mail if required. Where applicable, the photos that you took at the measuring location can be appropriately inserted into the documentation using the app;
Refrigerant update: to ensure that the refrigerants in your digital manifold always remain up to date, you can use the app to carry out a refrigerant update.
The app can be used with both Android and iOS systems. After installing the app, manifold and smartphone/tablet can be connected to each other via Bluetooth.
Features
Calculation of overheating and subcooling in real time, without manual calculations prone to errors;
Connection with the App for smartphone/tablet: remote monitoring and intelligent measurement documentation;
High-precision Pirani external probe for vacuum measurement, tightness test with temperature compensation, automatic environmental pressure;
The 60 most common refrigerants are stored in the instrument's memory;
Possible to make updates to new refrigerants (with the App);
Testo 557 Kit contains Bluetooth cooling analyser for commissioning, service and maintenance tasks; includes 2 clamp-type temperature probes, an external vacuum probe, batteries, case and calibration protocol.
Advantages
A single instrument for complete analysis of refrigeration systems;
Fast and accurate measurement of high and low pressure;
Automatic and simultaneous calculation of overheating and subcooling;
No need to change the refrigerant flexible tubes;
Remote measurement monitoring;
Ease of producing reports automatically and professionally;
You can work with the new refrigerants without having to buy a new analyser.
Industries
Analysis of air conditioning and industrial air conditioning;
Analysis of thermal pumps;
Energy auditors for buildings;
Industrial refrigeration systems;
Installers of cooling systems/thermal pump;
Responsible for maintenance of large buildings.
F.Fonseca is distributor of Testo in Portugal.