Process, Instrumentation & Environment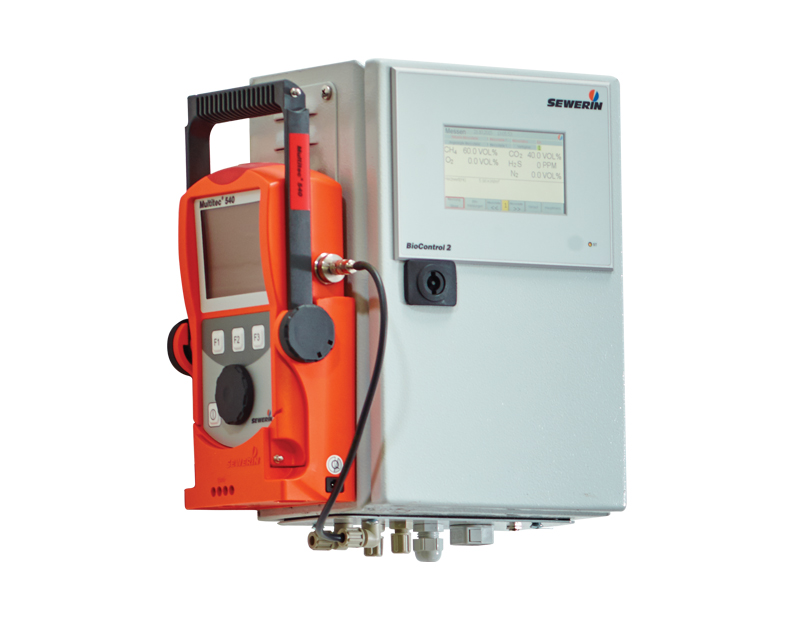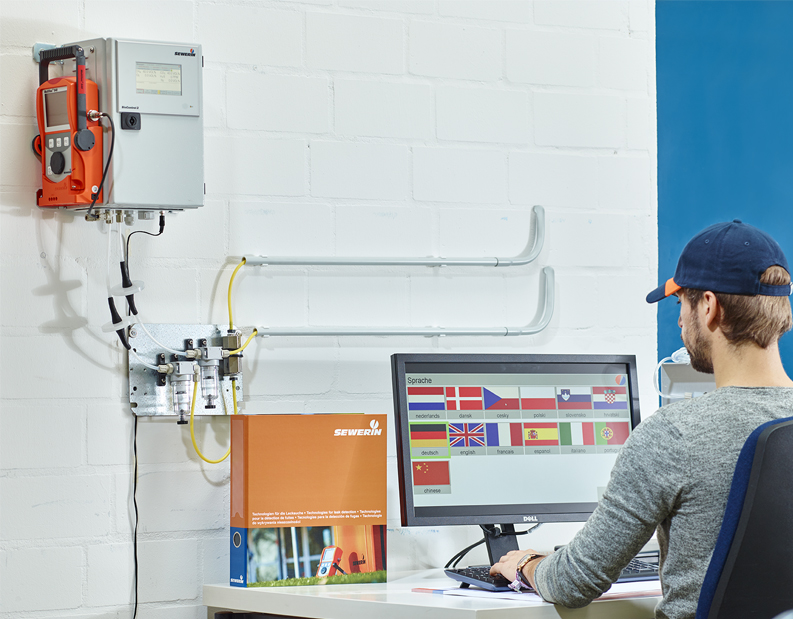 The entry-level model for individual process optimization.

The Biogas analyser Multitec® BioControl2 da Sewerin is a unique measuring system comprising a fixed stationary unit and a mobile gas measuring device. It is used in small to medium-sized biogas plants, landfills, wastewater treatment plants and composting plants.

The stationary BioControl 2 automatically monitors and records the gas quality continuously and conveniently at a maximum of two measurement locations. The mobile gas measuring device, either the Multitec® 540 or the Multitec® 545, can also be used to manually calculate measurement values anywhere in a plant. Simply remove it from its docking station and connect it to a measurement location. When it is replaced in the docking station, the protocols are sent to the BioControl 2 and displayed.
With its
two fixed measurement inputs
, the BioControl 2 meets all the main measuring demands of small to medium-sized plants. For example, it can continuously and reliably monitor the gas quality at the motor and the raw gas composition. The user can
individually configure
the BioControl 2 to the relevant area of application and demands. The measurement locations and cycles, save intervals, limits and alarm thresholds can be
customised according to the application
.
The
Biogas Analyser Multitec® BioControl 2 da Sewerin
is
non-wearing and low maintenance
. It is
calibrated and adjusted automatically
with test gas (optional). The Multitec® 540 / Multitec® 545 can be easily removed from the docking station and easily posted or transported for servicing. Sewerin can provide a replacement device to allow continued operation without interruption.
The Multitec® BioControl system is user-friendly and can be customised to the operator's needs; it also offers all the necessary standard functions and a high level of safety. The combination of stationary base unit and mobile gas measuring device thus offers a
cost-effective and easy switch to automated process optimisation and control.
Features
Large, state-of-the-art 4.3" color touchscreen: easy user-defined settings, language selection;
Flexible configuration to individual requirements: measurement locations/cycles, save intervals, limits, alarm thresholds;
User settings can be restored from first day of use (saved on USB stick);
Safe, reliable measuring results thanks to self-tests during operation;
Sturdy and durable: all relevant components resistant to aggressive gases;
Autonomous and regular saving of all measurement values and settings on USB stick; no data loss, no manual protocols, seamless documentation;
Comprehensive service: stationary unit largely maintenance-free;
Fast, first-class support thanks to customer-friendly remote maintenance and diagnostics – anywhere in the world by internet;
Simple automatic calibration and adjustment using test gas (optional).
Advantages
Easy and versatile measuring;
Saves time and money; maximum safety thanks to continuous automated measurement;
Extremely user-friendly and customizable configuration;
Monitor and then optimize processes e.g. by substrate adjustment;
Reliable component protection according to manufacturer's instructions by way of self-defined alarms;
Improve gas quality and increase yield.
Industries
F.Fonseca is distributor of Sewerin in Portugal.