Process, Instrumentation & Environment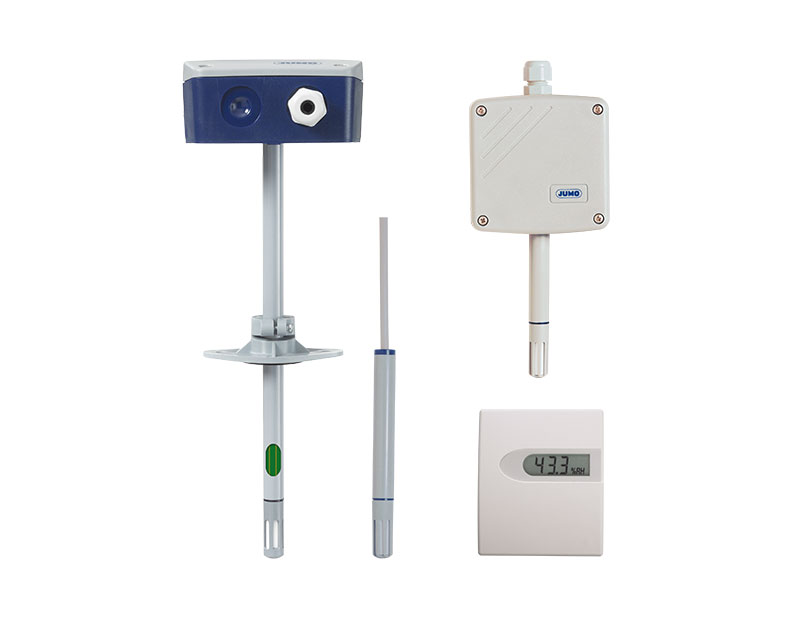 The Jumo capacitive humidity probes have been designed for the most common heating, air-conditioning and ventilation applications. They are particularly distinguished by high measurement accuracy, excellent long-term stability and good chemical resistance.

The modern design allows a low cost of installation and offers the greatest possible protection against pollutants and condensation. These factors, in turn, contribute to smooth and trouble-free continuous use.

The CO
2
measuring probes use infrared technology, proven to measure the concentration of carbon dioxide. The NDIR procedure has a patented automatic calibration function, eliminates the effects of aging and, as a result, allows accurate measurement of CO
2
values with long term stability.
Different options for combining carbon dioxide (CO
2
), humidity (RH) and temperature (T) sensors in a visually attractive housing set new standards for heating, air conditioning, ventilation technology and in many other areas where technology Meter is used. This series allows a wide range of applications in interior, wall, channel and stem versions.
Standard voltage or current signals are available as outputs. For some devices, passive resistance outputs as well as a digital output are also available as output option. The internal and wall mounted measuring probes can be equipped with a digital display.
Features
For measurement of relative humidity, temperature and air quality;
Wall, indoor, outdoor, channel and rod versions;
For installation management applications, as well as in climate monitoring and ventilation areas;
LCD display available as option;
Available with current, voltage or Modbus output, as well as passive resistance output for temperature.
Advantages
High accuracy of measurement;
Excellent long-term stability;
Good chemical resistance.
Industries
Facility management;
Climate and ventilation control;
Residential and office rooms;
Public buildings;
Storage and cold-storage rooms;
Glasshouses/greenhouses;
Production halls;
Indoor swimming pools;
Agricultural sector and stables;
Meteorology;
OEM applications.
F.Fonseca is the representative of Jumo in Portugal.