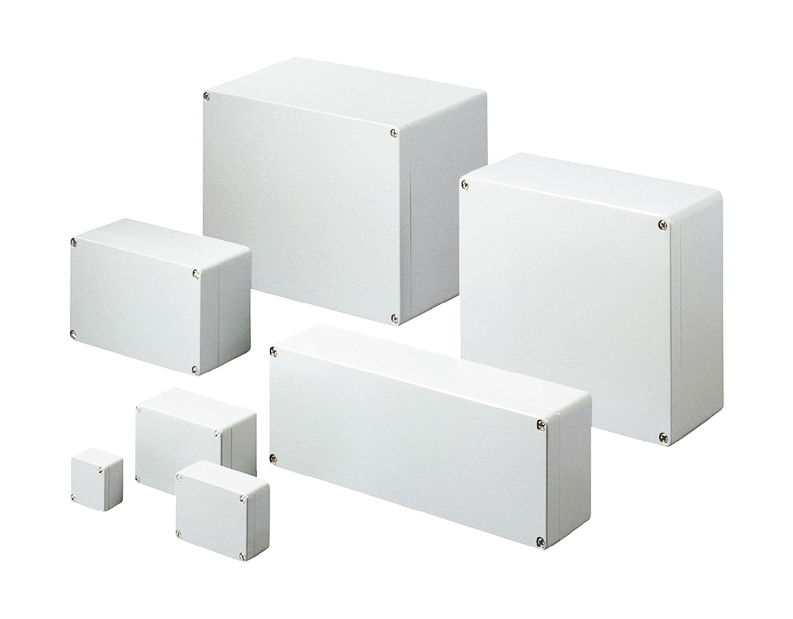 Small enclosures. This is application-oriented diversity: 6 enclosure types in 4 materials and more than 100 sizes.
With:
Fibreglass-reinforced polycarbonate: Cast aluminium;
Sheet steel with high-quality coating;
Stainless steel.
Every aspect of your requirements is met. It goes without saying that all this is achieved in Rittal's familiar high quality, and to suit every security requirement.
Cast aluminium enclosures GA
Rittal Service
Individual standard solutions for enclosures and covers;
Hole drilling;
Thread tapping.
Features
Some holes tapped for the attachment of support rails, mounting plates or earthing systems;
Cover with captive screws;
Wall mounting optionally: below the cover, via wall mounting bracket (available as an accessory);
Hole drilling and assembly of the cable glands available on request;
Enclosure and lid made from cast aluminium, lid with neoprene cord seal;
Smooth spray finish similar to RAL 7001;
Supply includes: 2 or 4 cover screws, captive mounted, 2 or 4 screws for the attachment of support rails, mounting plates etc., 1 screw for connection of the PE conductor;
Protection category: IP 66 to EN 60 529/10.91, NEMA 4 is met.
Industries
All industries.
Ref. A13845040
F.Fonseca is distributor of Rittal in Portugal.