Process, Instrumentation & Environment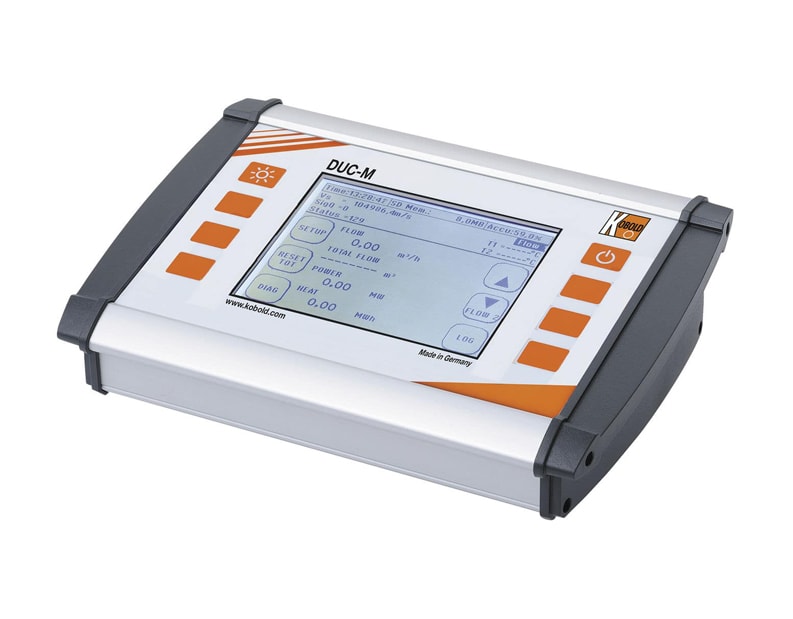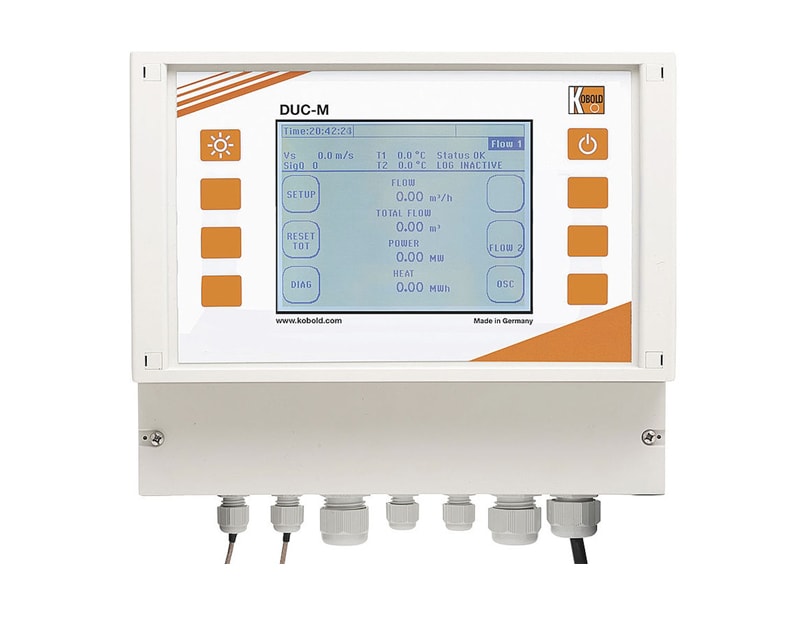 Clamp-On Ultrasonic Flow Measurement from DN 10 to DN 6000
The portable DUC-MP and the stationary DUC-MF (designed for continuous flow measurement), are very accurate and drift-free operating flowmeters for liquids in filled pipes. The devices operate absolutely hygienically and are leak proof. The monitoring of all aggressive and toxic liquids can be done without any problem.

Special advantage: The ultrasonic sensors are strapped from the outside on the pipe in the clamp-on method.
A cutting of the pipe is not required for installation. Similarly there is no requirement for process shutdown. In this way, the operating costs can be significantly reduced.

Superfast ready to measure!
The robust Quickfix mounting kit enables precise and quick sensor installation. With the Quick Setup option, transmitter can be configured in less than one minute. In less than two minutes, the sensors are mounted on the pipe.
By default, the transmitter operates at medium temperatures from -40 to + 150 ° C and flow rates of up to 30 m / sec. in pipe sizes from DN10 to DN6000. DUC works on the high-precision ultrasonic transit time method. Thanks to the AND-Technology (anti-noise Deflector), the ultrasonic waves are guided and coupled in such a way that unwanted echoes and signal variations are avoided. The flow rate is measured periodically, typically 50-150 times per second
.
Because of the latest digital signal processing, DUC operates drift-free and reliable even under influence of EMC radiations or unwanted machine noises.
Accurate measurements are possible even where conventional devices fail, for example in extremely unfavorable conditions, such as at high particle and gas pollution.The clear menu-structure, easy operation via eight buttons and the large graphics-capable text display facilitate measurement.
The battery as well as the 4 GB memory card make the portable version of DUC ideal for temporary measuring tasks.
Features
Media: ultrasonic conducting liquids;
Temperature measuring range: -40 ... 150 °C;
Accuracy: less 1%;
Flow velocities: 0 ... ±30 m/s;
Pipe sizes: DN 10 ... DN 6000;
For the most common materials (ultrasonic conductive) like steel and plastics;
Heat quantity measurement.
Advantages
Non-intrusive flow measurement;
Ready to measure in a few minutes;
Low measurement error and drift;
Portable and fixed solution.
Industries
Power plants;
Water and waste water industry;
Facility management;
Chemical and petrochemical industry;
Food and beverage.
F.Fonseca is the representative of Kobold in Portugal.