Process, Instrumentation & Environment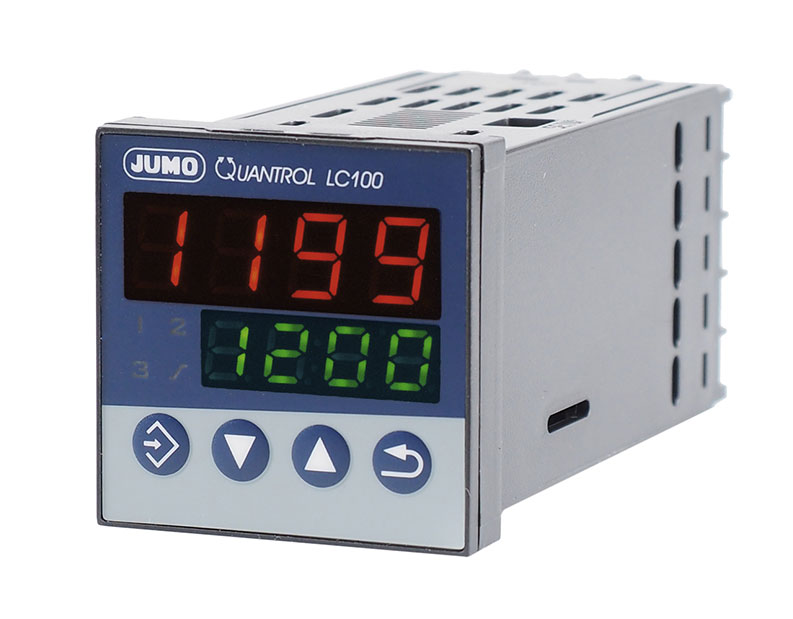 The Jumo LC100 controller is available in 48x48mm format. It is used for two-state and three-state control applications as well as for control of control valves or SCR power controllers through a continuous output of the controller.

The universal analog input of the LC100 for RTD temperature probes, thermocouples, or current/voltage signals is user programmable. The set point value, the actual value and all parameters are displayed on two seven-segment LED displays (red/green) with one or two decimal place(s). The values can be displayed in °C or °F. Depending on the format, up to five relay outputs with a switching capacity of 3 A / 230 V or up to four logic outputs 0/14 V are available.

The switch position of the relays or logic outputs is displayed using yellow LEDs. Different functions can be assigned to these outputs. An analog output 0 to 10 V or 0(4) to 20 mA is configurable as continuous controller output, actual value output or set point value output. Using the binary input, the device settings and operation can be locked, a ramp or the timer can be activated, or self-optimization can be initiated. The supply voltage is optionally AC 110 to 240 V or AC/DC 20 to 30 V.
The controller has a ramp function with adjustable gradient for constant set point change. In addition, a special firing curve for small pottery kilns can be used which allows controlled starting and time dependent firing. The user can enter set point values, gradient and firing time directly at the device.
The device can be connected to host systems or devices using the RS485 serial interface. Instead of operating the device from the front, the user can also program the controller using the setup program and USB interface; this requires no additional voltage supply for the controller.
The Quantrol series, like all Jumo controllers, is also equipped with reliable Jumo self-optimization (autotuning).
Features
48x48 mm format;
Two-state/three-state, continuous controller;
Sensor monitoring;
Up to five outputs;
Autotuning for exact PID control;
Manual/automatic mode;
Configurable limit value monitoring (alarms);
Setpoint changeover;
Level inhibit and key lock;
RS485 interface (Modbus RTU);
Ramp and timer function;
Firing curve for pottery kilns;
Push-in controller insert;
Setup interface (USB Mini-B).
Industries
Ceramics;
Machine and machine engineering;
Packaging and thermoforming;
Temperature control and drying processes;
Ovens;
Drying chambers.
F.Fonseca is the representative of Jumo in Portugal.